This post may contain affiliate links. If you buy thru these links, we may earn a commission at no additional cost to you.
---
Have you ever wanted to carve a pumpkin that looks super-psychedelic and radioactive with glowing green goo spewing out of it?
The following 4 videos and instructions by Tom Nardone of ExtremePumpkins.com show you how to do just that!
What you need:
One ugly, odd-shaped pumpkin
Several non-toxic glow sticks (at least 5)
Drywall saw
Heavy-duty scissors or garden shears
Ice cream scoop
Pumpkin carving tools (or a jigsaw)
Dry erase markers
How to do it:
Gut the pumpkin from the top (or bottom if the top is the best looking part of the pumpkin) using a drywall knife.
Use an ice cream scoop to remove the seeds and strings from the inside of your pumpkin, as well as from the lid of your pumpkin.
Draw a 'radioactive' symbol on your pumpkin using a dry erase marker.
Then, draw your pumpkin's facial features below that — as if the pumpkin is looking up at the radioactive mess.
Using a pumpkin carving tool (or a jigsaw), start carving out along the lines you've drawn.
Next, shave off some of the pumpkin skin from the pupils of your pumpkin's eyeballs by lightly scraping the skin off the surface of the pumpkin, or use a dremel.
One-by-one, break and then shake a few glow sticks to activate their glow. Place one or 2 entire glow sticks inside the pumpkin to illuminate your pumpkin face from afar.
Finally, break, shake, and the cut the top off of a couple more glow sticks so you can pour the goo down the outside of your pumpkin's face — working from top to bottom.
Step-by-step video instructions:
Now, see how to carve your own radioactive glowing pumpkin using this step-by-step video: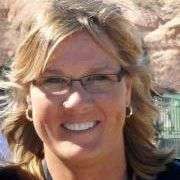 If there is ONE thing I like… it's C H A N G E! The four seasons and major holidays are my favorite times of the year to recharge — and redecorate. I mostly like to share frugal DIY ideas for seasonal home decorating and party planning (for both, indoors and outside). Because who doesn't enjoy entertaining at home?! But even if you don't host many parties, I think you'll appreciate my DIY hacks and clever ways to decorate your house for the major holidays including Halloween, Thanksgiving, Christmas. Because those are the times when people tend to have the most visitors and overnight houseguests.