---
This post may contain affiliate links. If you purchase through these links, we may earn a small commission at no additional cost to yourself.
---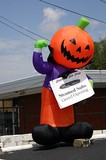 Believe it or not, THIS was spotted on my way to work today.
We're talking AUGUST…
Not even late August…
But rather August 16th!
Yes it's one of those pumpkin-head Halloween blow-up yard art thingies.
I guess it was meant to bring attention to a new sub-shop in a little strip-mall.
But did they have to depress me at the same time by forcing Halloween upon us? I mean, was just starting to enjoy my summer!
Well, I have to say… It worked. It got me to look.
In fairness, I need to try one of their subs…
— > In case you're wondering, here's where we stand on Holiday decorations in general.
If there is ONE thing I like… it's C H A N G E! The four seasons and major holidays are my favorite times of the year to recharge — and redecorate. I mostly like to share frugal DIY ideas for seasonal home decorating and party planning (for both, indoors and outside). Because who doesn't enjoy entertaining at home?! But even if you don't host many parties, I think you'll appreciate my DIY hacks and clever ways to decorate your house for the major holidays including Halloween, Thanksgiving, Christmas. Because those are the times when people tend to have the most visitors and overnight houseguests.