This post may contain affiliate links. If you buy thru these links, we may earn a commission at no additional cost to you.
---
Halloween can be one of the more entertaining times of year — especially when it comes to decorating the inside of your house.
There are lots of different areas in your home that you can decorate:
windows and window sills
fireplace mantels
doors and doorways
walls
steps and staircases
ceilings
tables and countertops
corners of the room
…and lots of creative ways to do so!
Following are many fun and unique ways to decorate each of those places inside your home this Halloween.
Windows are one of the more obvious spaces to decorate, but that doesn't mean you can't be creative! Here are some fun ways to decorate the inside of your windows for Halloween…
Cut out spooky shapes and designs from static cling black window film normally used on car glass. Then, stick them on the windows of your home. Also, if you don't want to cut out your own, you can purchase Halloween window clings.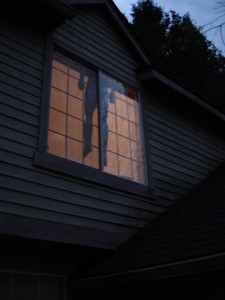 Place life-size figures (like a mummy, a vampire, or even just big scary eyes) in your window with a light shining behind them. That makes them really look scary! You can purchase some of these figures as large window clings, or as full-size props.
Paint Halloween pictures on your windows with acrylic craft paints.
Cut out silhouettes of your favorite Halloween symbols from construction paper. Think along the lines of black cats, bats, or even a haunted house (if you're really creative). Then, hang them in your windows. When it's dark outside, your windows will look eerily spooky with those shapes showing.
You might think decorating the inside of your doors is a no-brainer when it comes to decorating for Halloween, but there are several cool outside-the-box ideas you might not think of…
Consider hanging bats and spider webs inside the arches of your doorways.

If you've ever seen those scary door portals in movies I'll bet you've wondered how to do that. I know I have. Well you can purchase or make your own scary door facade for your front door …or for any door in your home.
Cover your doors with orange or black construction paper or wrapping paper. Then, turn your doors into a collage of scary pictures, drawings, photos, cut-outs or whatever. When you're done, add a mess of spider webs!
Create a Halloween wreath for your front door by using a styrofoam ring. Then, pin black and orange candy to it.
One of my favorite places to decorate for Halloween is the staircase. You can do a lot with staircases that make them look really fun at this time of year. Here are a few ways to decorate your staircases for Halloween…
Wrap orange and black tinsel and lights around the railing and down your banister. This is a very festive way to decorate your staircase.
Hang fake spider webs on different parts of your staircase. Placing them in between the spindles that reach down to the stairs looks especially great!
If your child or you have Halloween figures (such as witches, scarecrows, black cats, even small kid's stuffed toys), you can collect Halloween things like that and put them on your stairs. Just be sure to place them where they won't be tripped on; up against the wall is good.
Another place I really enjoy decorating for Halloween are the kitchen table and countertops. Of course, you probably don't want to decorate your kitchen areas too much since you'll be using those space for cooking. But don't overlook all of the other flat spaces and countertops throughout your home. Here are some fun ways to decorate tables and countertops for Halloween…

Decorate tables
and countertops with your favorite Halloween figurines. Even if you don't have any, you can make them yourself fairly easily. Or, try looking at local thrift shops for inexpensive Halloween figurines. If you shop off-season, you'll be more likely to find some good stuff!
Consider going to the hardware or sporting goods store to purchase crow or owl decoys that you can then perch on canisters on your tables or countertops. You could even put these items on top of the cabinets themselves, if there is some space at the top.
Make paper mache lanterns for your tables and counter space. The cool thing about these is you can put a small light in them (no candles though), or even candy. It's a very festive way to decorate flat spaces for Halloween… and they aren't difficult to make either!
Make ghoulish gourds to place around your countertops and table tops. These are small, so they don't take up a lot of space. Yet they make great Halloween decorations. They are easy to make as well.
If you're fortunate enough to have a fireplace, then you probably also have a mantel. Mantels are really just for decorative purposes anyway, so this is one area you will want to go hogwild when it comes to Halloween decorations. Here are some great ideas for decorating your mantel this Halloween…
Make pumpkin Halloween candles. These are really cool! You basically just find at least 3 (and up to 6) small pumpkins. Cut off the top, and core them with an apple corer. Then, put black and orange candles inside them and place on your mantel. (Don't forget to decorate around the fireplace itself too!)
Hang your child's Halloween goodie bags from the fireplace mantel. Just keep in mind, if you're going to light a fire, be sure to put them up on the mantel before doing so. This is a great way to decorate without doing much other than hanging Halloween items where you usually hang stockings at Christmas!

Use fireplace mantel scarves to show off your favorite Halloween lights and candles. Just be sure to secure the scarf with small drapery hooks along the wall at the edge of your mantel first. That way, kids and pets can't pull the whole thing down on top of themselves.
Turn your mantel into a really scary ghostly photo gallery (see #5 in the slideshow). Simply photocopy old photos and paste them to black construction paper or black cardstock. Then, arrange them on your mantel, along with fake cobwebs and black candles.
While most people may not think much of decorating the walls during the Halloween season there are actually a number of different things you can do to be festive. Here are some fun ways to decorate your walls for Halloween…
Add black or orange paper to your walls, or maybe a Halloween poster. If you go the black or orange paper route, you can decorate it using crayons or markers. If you go the poster route, consider adding some orange and black lights to the frame, or even Halloween garland.
Make a creepy Halloween tree. You'll give everyone who sees it the creeps by using black paper and then sticking it to your wall. You can also add a witch, black cat, and bat cameos to the bare limbs giving it a more Halloween look!
Create 3D ghosts that can hang on your walls. I really like this idea and may try it myself this year. After all, what's creepier than being in a candlelit apartment and seeing something white floating on the wall in front of you?
Another area that not everyone thinks to decorate is ceilings. But if you do decide to decorate the ceilings in your home, it can really add to the creepy ambiance during Halloween. Here are some fun ways to decorate your ceilings for Halloween…
Remember those nasty vampire cocoons in Van Helsing? Well, if you're totally sick of bats, cats, rats, and witches, then you might consider taking on a scary movie theme for Halloween decorating purposes. You can make those nasty looking cocoons for cheap and use them to decorate your ceilings.

Make a huge spider! Then, suspend it from the ceiling. This one is not so much scary as fun for the kids.
You can hang orange and black streamers from the ceilings, or string orange light strips. Halloween ceiling banners are another popular option. You can even make these yourself. One Halloween ceiling banner that you can purchase makes it look like there are spider webs on the ceiling; hanging from it are strings of spiders. Very creepy indeed!
Finally, the one place we haven't covered when you're decorating for Halloween: all of the empty corners of your home! Believe it or not, the corners of your home are one of the places that you can get the most creative and come up with some really scary ideas. Here are some fun ways to decorate the corners of your home for Halloween…
Make a different kind of Halloween tree. Yes, there's always this kind of Halloween tree. Or, you could make a spooky Halloween tree using a black pot, black rocks, sand, and some branches. Simply fill the pot with sand and then put your branches into the sand and stack the black rocks around the branches. You can also decorate the branches with orange or black lights. This Halloween tree can then be placed in any empty corner to give your home a festive Halloween look.
If you happen to have an empty corner that a table would fit nicely into, one way you can add a decoration to that table is make your own little ghosts. Simply purchase a bag of Tootsie Roll pops, then put a white Kleenex over each one and tie it down with an orange or black ribbon. This works especially well if you are giving out candy to trick-or-treaters because you can prop them up in an orange or black bowl. Or, stand them up in a black tin and let the kids pick the one they want! Candy that doubles as a decoration definitely works for me!
Find some old clothes, newspapers, and a scary mask. Stuff a pair of old pants and a shirt with newspaper, wad up some newspapers to put the mask on and then attach it to the neck of the shirt. Prop this scary guy on a chair in a corner, or hang him there! You may also want to just sit him on the floor. The idea is you now have an amazing monster prop that can be used in many different ways for Halloween.
Well, I think this covers just about every possible space that you could have in your home to decorate! There are certainly lots of different ways to decorate each of those spaces, as you can see.
Halloween can be one of the more fun holidays when it comes to decorating, and I hope you find some ideas here worth trying this year.
More Ways To Decorate The Inside Of Your Home For Halloween
My favorite things to write about are topics that have to do with pregnancy, weddings, saving money, living green, and life with dogs. When I'm not writing, I love to spend time with my husband, read, create 3D artwork and Native American beadwork.