This post may contain affiliate links. If you buy thru these links, we may earn a commission at no additional cost to you.
---
Halloween is a great holiday to get together with friends.
Why not pick a theme for your group and then make your own group costume?
I've done this with my friends when I was younger. Not only is making the costumes together fun, but so is shopping at thrift stores (which I highly recommend, by the way).
If you are missing any parts for your group Halloween costume or simply don't want to use your own clothes because you'd have to alter them in some way, then thrift stores are perfect!

To get you started, here are lots of fun group Halloween costumes you can make at home…
Looking for some cheap group costumes you can make yourself? Most of these unique and fun group Halloween costumes can be put together in minutes.
Some examples: an army, the Blackeyed Peas, bag ladies & bums, and a pack of Skittles or M&M's. The instructions for these seem very easy, and some of them are really funny too. So, if scary isn't your thing, you should check these out.
If you're a fan of the Watchmen movie, as I know many people are, then you may want to get your group of friends together to make Watchmen costumes.
This is a really cool idea, and the several of the costumes you should be able to make just from using a few things from your closet.
If you like the idea of being able to pull something out of your closet for your group costume, then you're going to love these 5 group Halloween costumes.
The ideas include: Scooby Doo and his pals, a Vampire Family, the characters from Ugly Betty, a box of Crayons, and The Munsters. What I really liked about this one is the author tells you what you need to make the costumes, and most of it can be found around your home or at a thrift store.
There are literally dozens of group Halloween costume ideas for adults and kids here. Plus, tips for making them yourself.
Some of the really cool ideas include people from different time periods such as the renaissance period, the medieval period, and the wild west!
Television shows and movies make great group costume ideas and can be easy to make at home.
These group Halloween costume ideas include the Blue Man Group (my personal favorite), an 80s hair band rock star and groupies, and the guys from Star Trek — to name a few. I bet you probably already have an outfit hanging in your closet that is similar to the clothes worn by these people!
This next one is one of my favorites! Whether you've heard of the rock band from the 70's called ABBA or not, you will love this ABBA group Halloween costume idea. See how to make the individual ABBA costumes for each group member like this. The best thing is… ABBA always wore simple outfits, so they should be relatively easy to replicate.
Along those same lines, you could all dress up as the Robert Palmer girls singing Addicted to Love or Simply Irresistible.
Another great one is this set of instructions for making a band of hobos or a band of gypsies for your group Halloween costume.
These are just 2 of the group costume ideas on this list. Some of the others are pretty creative too! (Think Cupid gone wrong with his bow and arrows.)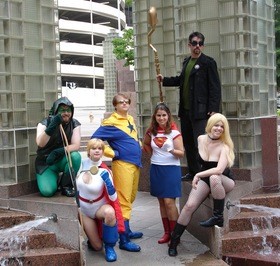 These group Halloween costumes you can easily put together at home just by wearing clothing out of your own closet and adding a few props.
Some of the costume ideas include characters from your favorite TV shows (like The Honeymooners or The Golden Girls). Other ideas include dressing your entire group as Space Invaders, bubble bath beauties, lego blocks, zombies, and superheroes. (Or, get your girlfriends together and go as Disney princesses!)
If the idea of spending a ton of money on costumes for your group isn't appealing then you'll want to check out these fun and creative group Halloween ideas.
Not only are they creative, but they are also easy and quick to put together! A few examples include a chain gang, a group of zombies, and group of pirates.
This one takes the cake, and I just couldn't stop smiling when I first saw it! How about going as the color blocks from a game of Tetris?
A group of friends came up with unique idea. All it really requires is some cardboard boxes, paint, and black tape! A similar idea is for your group to go as Pacman and the 4 ghosts (Blinky, Pinky, Inky and Clyde).
How about your group going as money-related items? For example, a piggy bank or an ATM machine:
A piggy bank could be made with a set of pink sweats, a rubber pig nose, and curly tail. Then all you'd need to do is make a slot out of construction paper which you could tape or glue to your back. An ATM would only require a box with holes for your head and arms, along with a thick black pen so you could write the appropriate words on it, and maybe some construction paper to design slots and the buttons. There are lots of fun ideas using dollars and cents!
Here are some easy group Halloween costume ideas. They include: a rainbow, Rubik's cube, grapevine, "cereal" killer, iPod commercial, and the 7 deadly sins.
Personally, I love the idea of the 7 deadly sins because it would be so easy to do. You could have "sin" dress up sexy with heels and a mini-skirt. "Envy" could wear a green outfit as in "green with envy," and well you get the picture.
How about your group being dead authors for Halloween?
As a group costume, this one has to be the best I've heard of. Just pick your favorite dead author, find a picture and duplicate the clothes and hair as much as possible, and don't forget to add something to the costume that indicates how the author died.
Those are just some of the many group Halloween costumes that you can make yourself at home. With a little creativity, and a few odds & ends that everyone donates to the cause, dressing up as a group at Halloween can be really fun! And who knows, you might even win the Halloween costume contest should you decide to participate.
More Group Halloween Costumes
My favorite things to write about are topics that have to do with pregnancy, weddings, saving money, living green, and life with dogs. When I'm not writing, I love to spend time with my husband, read, create 3D artwork and Native American beadwork.