This post may contain affiliate links. If you buy thru these links, we may earn a commission at no additional cost to you.
---
I may not be fond of roller coasters, skydiving, or other adventurous activities — but one type of thrill that is right up my alley is getting the wits scared out of me by visiting a haunted house during Halloween season.
Much like the way I watch horror movies, I like to see if anything can really scare me. And I like to watch others' reactions, too. (Priceless.)
With Halloween right around the corner, it's time to check out the the best real haunted houses AND the scariest haunted attractions in the U.S…
Real Haunted Houses vs Faux Real Haunted Houses
Some people are content to visit one of the many haunted houses that pop up as Halloween attractions each year.
Others feel that to truly get in the spirit of the season they need to "take a walk on the paranormal side" and find authentic haunted houses. You know… ones that are rumored to be inhabited by "real" ghosts and spirits, and (usually) the scene of one or more tragic events.
Real haunted house: the destination of many a ghost-hunter throughout the year. For example, I recently compiled a list of "real" haunted places in Tennessee — where I live. (You'll find an amazing list of "real" haunted houses at the end of this article.)
Faux Real haunted house: the Halloween variety; one-of-a-kind scary scenarios are concocted inside buildings to scare the daylights out of people. They're so much fun… if you can take it!
Personally, I'm a fan of both types of haunted houses. I'm always in search of a good scare! Are you ready?…
Rating The Scariest Haunted Houses
The ones on the following list are Halloween haunted attractions — a.k.a. "faux real" haunted houses.
As it turns out, there are only a few "Halloween experts" that monitor haunted attractions across the U.S. and compile annual lists of the best haunted houses in the U.S. They are both included here.
First, I've referenced the haunted house lists of 2 of the most popular and respected haunted Halloween websites. The difference between them is important to note:
Hauntworld – rates haunted houses in an apple-to-apples manner by attending the venues themselves and rating them.
Haunted House Ratings – compiles votes by people who visit their website and share their opinions.
Next, I've included some rather subjective lists of the top haunted houses, as rated by haunted house enthusiasts (moreso than "experts" — so to speak). Still, these were rated among the scariest, most extreme, and most intense in the country.
So go ahead… dive in. Look for a top-rated haunted house near you. And if there isn't one near where you live, then use the tools below to find other haunted houses and Halloween attractions near you!
Scariest Haunted Houses In The U.S.
First, check out this list of the Top 31 Scariest Haunted Houses list, as determined by everyone who visited the Haunted House Ratings website and voted for their favorites.
Next, the following list of The Scariest Haunted Houses comes from Hauntworld:
For what it's worth, these made Hauntworld's list of Scary Haunted Houses in previous years:
All of these haunted houses will be open for business again very soon, and you can count on the same props, scares, and themes as before — or slightly enhanced, thanks to advances in technology and peoples' enhanced desire to be scared out of their mind.
Watch videos from inside many of the haunted houses listed above.
Even More Top-Rated Scary Haunted Houses
These next few lists of scary haunted houses may have some duplicates on them from the lists above, but don't lose your head over it. That just means they're really great haunted houses!
Find Haunted Houses & Halloween Attractions Near You
Don't see a top-rated haunted house near you on the list above? Then look through these haunted house directories to find ones closer to where you live:
I would also urge you to pay a visit to your local civic organizations' haunted houses — like the Jaycees, Shriners, and Lions Clubs, to name just a few. They do amazing things for the community, and this is a great way for you show your support for them.
Check out these hysterical candid photos of terrified people in haunted houses. It's an amazing collection of "fear pics".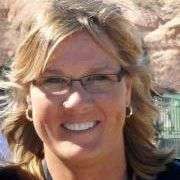 If there is ONE thing I like… it's C H A N G E! The four seasons and major holidays are my favorite times of the year to recharge — and redecorate. I mostly like to share frugal DIY ideas for seasonal home decorating and party planning (for both, indoors and outside). Because who doesn't enjoy entertaining at home?! But even if you don't host many parties, I think you'll appreciate my DIY hacks and clever ways to decorate your house for the major holidays including Halloween, Thanksgiving, Christmas. Because those are the times when people tend to have the most visitors and overnight houseguests.