This post may contain affiliate links. If you buy thru these links, we may earn a commission at no additional cost to you.
---
The following tips will be helpful if you're:
Looking for simple Valentines Day flowers that you can arrange yourself — as a gift for someone special.
OR…
Looking for DIY projects that could have the makings of a new hobby — for Valentine's Day or any holiday.
Creating unique Valentine flower arrangements is a true labor of love and makes a bold statement that you went out of your way to create something special.
Here are 5 unique DIY ideas… and they're oh so simple!
These DIY flower arrangements can all be accomplished by buying fresh flowers at your local florist.
You could ask them to arrange the flowers in the following ways for you. Or, just buy the cut flowers and arrange them at home yourself — they're that easy!
Okay, let's get started… and let me show you how Valentine flower arrangements aren't limited to just roses.
#1 – Sweetheart Flowers
To make an unforgettable Valentine's Day flower arrangement, you'll need lots of conversation hearts and 2 vases — one smaller one that will easily fit inside a larger clear one.
The smaller vase will hold the flowers, while the larger vase holds the smaller one and all the candy that will provide a decorative barrier between the vases.
Choose a combination of carnations in colors that complement your sweetheart candies.
Feel free to add other candies too — like red hots or red & white jelly beans.
#2 – Romantic Dinner Flowers
Naturally, you'll be thinking about red roses as a centerpiece for your romantic Valentine's Day dinner, but don't stop there.
Add a vintage touch with large beige or white hydrangeas. In fact, they'll even look lovely dried and added to your roses.
While you'll want to add greenery, be sure to pick up some pale green flowers too. They'll complement both the roses and the hydrangeas with lots of old-fashioned charm.
#3 – Counting the Years
To create a Valentines centerpiece that reflects the years — or even the months — that you've been together, consider a this one-of-a-kind rose display.
You'll need some red roses, a vase (or some other container), and a piece of floral foam placed into the vase.
Create spiral-staircase effect by standing up each rose in the foam so that it's slightly shorter than the one before it.
In this way, each single rose stands out and represents one of the months (or years) of your relationship.
Awe!…
#4 – Seeing Red
Red is always associated with Valentine's Day and you can't go wrong with romantic red displays of flowers.
You can add vases to your fireplace mantel, dining room table, foyer, or even your coffee table.
For attention-getting red flower displays, you'll need some black vases or containers. (You can even spray paint old soup or coffee cans for this purpose!)
Then add red posies, roses, carnations, lilies, or any other red flowers you fancy.
Top off your display with some red feathers from the craft store. The combination of feathers and flowers is stunning!
#5 – Perfectly Pink
To create a simply sweet Valentine flower arrangement, all you'll need is a tall clear vase, some beargrass or baby's breath, and long stem pink roses.
The green of the beargrass provides the perfect contrast with the pink roses.
For added effect, choose a square vase or a vase with an unusual shape.
Remember, pink roses signify happiness, elegance, romance, admiration, sweetness, and thanks. So they're not as over-the-top as red roses.
Wondering how many roses to include?
Here's what it means when a certain number of roses are given as a gift:
1 single rose of any color depicts utmost devotion.
2 roses entwined together communicate "Marry me."
6 roses signify a need to be loved or cherished.
11 roses assure the recipient that they are truly and deeply loved.
13 roses indicate a secret admirer.
DIY | How to Arrange Roses (Perfect for Valentines Day!))
So there you have it.
As you can see, it's surprisingly simple – and gratifying — to transform store-bought flowers into your own unique arrangement for Valentine's Day.
I bet you'll be so proud of your DIY flower arrangements that you'll be thinking about what you can create for the next holiday too!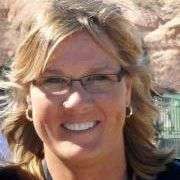 If there is ONE thing I like… it's C H A N G E! The four seasons and major holidays are my favorite times of the year to recharge — and redecorate. I mostly like to share frugal DIY ideas for seasonal home decorating and party planning (for both, indoors and outside). Because who doesn't enjoy entertaining at home?! But even if you don't host many parties, I think you'll appreciate my DIY hacks and clever ways to decorate your house for the major holidays including Halloween, Thanksgiving, Christmas. Because those are the times when people tend to have the most visitors and overnight houseguests.