This post may contain affiliate links. If you buy thru these links, we may earn a commission at no additional cost to you.
---
In a small study of metro Seattle people aged 18-66, some interesting findings came to light:
Most people made several resolutions (67% made 3 or more)
Increasing the amount of exercise was the most common primary resolution (37%)
People made more resolutions to start or increase a behavior (84%) than to stop or decrease something (16%)
The most interesting thing to me: Only 65% made their resolutions between Dec. 28 and New Year's Day. The rest made pledges they considered to be New Year's resolutions as early as May and as late as the end of January.
Also interesting: Persistence pays off… Of those who successfully achieved their top resolution, only 40% of them did so on the first attempt. The rest made multiple tries, with 17% finally succeeding after more than 6 attempts.
Okay, so those are the facts. Now, here's how to stick to your New Year's Resolutions this year…
How To Stick To Your Resolutions
My Personal New Year's Resolutions
Around this time of year one thing constantly runs through my mind:
It takes doing something 21 times in order to make it a habit.
I guess I have 20 more times in a row to NOT use the refrigerator light as a night light during evening visits to the kitchen. Yep, that's my "green" Resolution for 2009.
See a few other ways to reduce your refrigerator's energy consumption.
Here are some of my other New Year's Resolutions…
Don't run the dishwasher (or washing machine) on "longer" wash cycles anymore. Instead, choose shorter wash cycles for the same full loads in order to save time, energy, water, and money.
See just how much water you'll be saving by doing little things differently.
Use my crockpot more. I love it, but I simply don't use enough.
Check out how using a crockpot actually saves you money.
Hmmm…. all of my resolutions appear to be kitchen-related and have a "green" theme this year. I guess I'll be helping the planet at the same time that I'm saving us some money in 2009!
More About New Year's Resolutions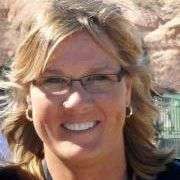 If there is ONE thing I like… it's C H A N G E! The four seasons and major holidays are my favorite times of the year to recharge — and redecorate. I mostly like to share frugal DIY ideas for seasonal home decorating and party planning (for both, indoors and outside). Because who doesn't enjoy entertaining at home?! But even if you don't host many parties, I think you'll appreciate my DIY hacks and clever ways to decorate your house for the major holidays including Halloween, Thanksgiving, Christmas. Because those are the times when people tend to have the most visitors and overnight houseguests.