This post may contain affiliate links. If you buy thru these links, we may earn a commission at no additional cost to you.
---
Every year people max out their credit cards on Christmas gifts, decorations and food.
Then, in  January, when the bills start piling up in the mail box, they realize they have created a financial fiasco that they have no means of getting out of.
For over 17 years, I was a single parent. There wasn't much money to spend at Christmas, and so buying decorations was positively out.
However, I was determined that our house would be festively decorated for the holidays.
How did I manage?
Here are a few tips for Christmas decorating on a budget…
Nature's Beauty
Near the end of November, my daughter and I would take a walk in the woods with a pair of sharp shears in hand and a burlap sack over our shoulders.
We would cut long and short evergreen boughs and pick up acorns and pinecones.
The things we collected would be baked in the oven at 200 degrees Fahrenheit to rid them of any bugs. Then, we'd use those things to make garland, swags and wreaths.
We'd accent the greenery with berries and nuts. We would also add red bows for embellishment. Our home looked much like the homes did at Christmas during the Victorian era.
Children's Dolls And Books
My daughter had a Raggedy Ann doll. Every year we collected a stack of children's Christmas books.
We placed them on the old, oak sideboard that I'd inherited from my grandmother.
We would sit Raggedy Ann on top of those books.
There she would sit to preside over the Christmas activities.
Homemade Candles
Candles were always part of our Christmas decor.
I studied candle making terminology and learned how to make candles, so I could make them early in the year.
Long before they were popular, I poured homemade candles into Mason jars and tied a piece of ribbon or twine around the mouth of the jar.
During the Christmas season, we would light these candles and enjoy the ambiance they created.
Homemade Wreaths
Every year I made a fresh evergreen wreath to place on the front door.
Each year it was different.
The basic concept was the same — evergreen affixed to the wreath form, but then I would decorate with acorns, pinecones, feathers, bird nests, cranberries and other items from nature to make it unique.
Then, a bow would be added for a splash of color.
Garland & Bows
The mantle was also decorated with evergreen garland and red bows.
In the center of the mantle, I placed a large, clear glass bowl and put shiny, glass Christmas ornaments inside it.
On each side of the bowl, I put a homemade pillar candle. Behind the bowl, I placed 3 taper candles of different heights.
Window Decor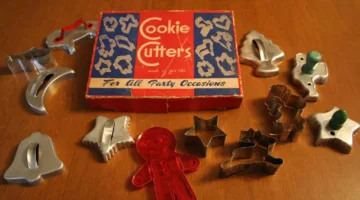 We didn't have decorations for the windows, so we hung either Christmas ornaments or shiny, metal cookie cutters from the center of the window frame, using ribbon.
Small wreaths made of evergreen, nuts and pinecones will also give your windows a festive look.
Picking Out A Tree
The week before Christmas, my daughter and I would drive out to my grandfather's farm. The entire family congregated there for a day of Christmas tree cutting.
Grandpa would hook the team of horses to either the wagon or the sleigh, depending on the weather, and we would travel to the back of the farm where there was a forest of evergreens. Our Christmas tree was always a pine tree.
Grandpa would place it in the trunk and fasten it securely for the drive back to town. Once the tree was in the tree stand and securely fastened so it wouldn't topple, it would be decorated with Victorian paper chains, strings of popcorn, and cranberries. Then, pinecones would be attached with red or green ribbon and dried fruit garland. The finished product was always beautiful.
It can actually be quite enjoyable to decorate your home on a budget; give it a try. You'll have fun searching for all the items of nature.
In the end, you will enjoy a very thrifty Christmas with a beautifully decorated home.
More Budget Christmas Decorating Tips
I love writing about almost anything, especially my life experiences. Other favorite things to write are how-tos, household hints, nature and fishing articles, among others.