This post may contain affiliate links. If you buy thru these links, we may earn a commission at no additional cost to you.
---
Football cupcakes are all the rage — both at tailgate parties and at the big Super Bowl party you're planning for the end of this year's football season.
If you're going to have friends over to watch the Super Bowl game, cupcakes are a simple way to integrate team colors into your Super Bowl party food and decor.
They're also the perfect way to add fun to your party while showing off your own style and creativity.
The following collection of cupcake ideas, tips, and recipes will help you plan a Superbowl party that the whole neighborhood will rave about for seasons to come.
These awesome football cupcakes will showcase your team spirit while offering a variety of tasty treats for your Super Bowl party guests.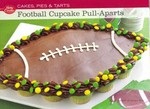 Are you looking for a special centerpiece to set the tone for your Superbowl party? This one looks like a cake, yet it provides individual servings (cupcakes) all neatly wrapped in their own disposable containers. This pull-apart cupcake cake makes it simple to group your cupcakes into the shape of a football, then pipe frosting over the entire collection as if it were a sheet cake!
First, frost individual cupcakes using team colors. Then, use fruit rollups and pretzel sticks to make pennants and chocolate-covered almonds for footballs. Finally, pipe on the white yard lines and your miniature football field is ready to eat!
Make an astroturf backdrop for your football cupcakes using coconut tinted with green food coloring. That way, your serving platter will become the centerpiece at the table! Note: The video includes lots of unique ideas for all sports, not just football. So these cupcake ideas will keep your friends entertained all year long.
Using the round cupcake top itself as the player's face, outline a football helmet using team colors. Then, add facial features to creating individual football players. If you write in their numbers, you can set up your display like the team is on the field ready to rumble.
The most unique thing about this cupcake is the fact that the candy football toppers are made out of Tootsie Rolls. The classic Tootsie Roll is a unique alternative to using chocolate almonds or fruit rollups. All you need is a microwave and a rolling pin.
Start with muffin cups in fun colors, then use a "grass" style decorating tip for the green grass on top of each cupcake — available at most craft stores. Add either homemade or store-bought football cake toppers to personalize your football cupcakes. (Detailed decorating instructions here.)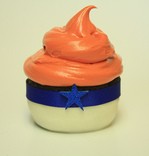 The best part about this cupcake recipe is the white chocolate base that sets them apart from all the rest. Then, ice the top of the cupcakes with frosting tinted in team colors using food coloring. Finally, wrap a ribbon in the team's color around the cupcake to finish off your masterpiece. These tasty treats are definitely a work of art!
This is another good one for those who enjoy doing crafts. Start some new shoelaces and a few sheets of football-textured craft paper (found at any scrapbook or craft supply store). After baking the cupcakes as usual, simply add the crafty football touches after the fact… including actual laces!
Here's a special recipe for making peanut butter cupcakes, topped with chocolate icing and a chocolate candy football!
If you want football cupcakes that taste sweet and smoky with a hint of beer (…and who doesn't?!), then these are the best Superbowl party cupcakes for you! All you need is a little beer, a little butter, some cheese, brown sugar, sour cream, eggs, flour, baking soda, vanilla extract, and some bacon bits.
As you can see, cupcakes are the perfect party food! They can be can be simple in style or ornately decorated for any occasion — including all sports, not just football. So you can take these ideas right on into the next sporting season that your family enjoys.
More Fun Ideas For Your Football Cupcakes
In addition to the links I've included above, here are some other resources to help you make unique football cupcakes for your Super Bowl party:
Like this post? Save it to read again later… or share with others on Pinterest!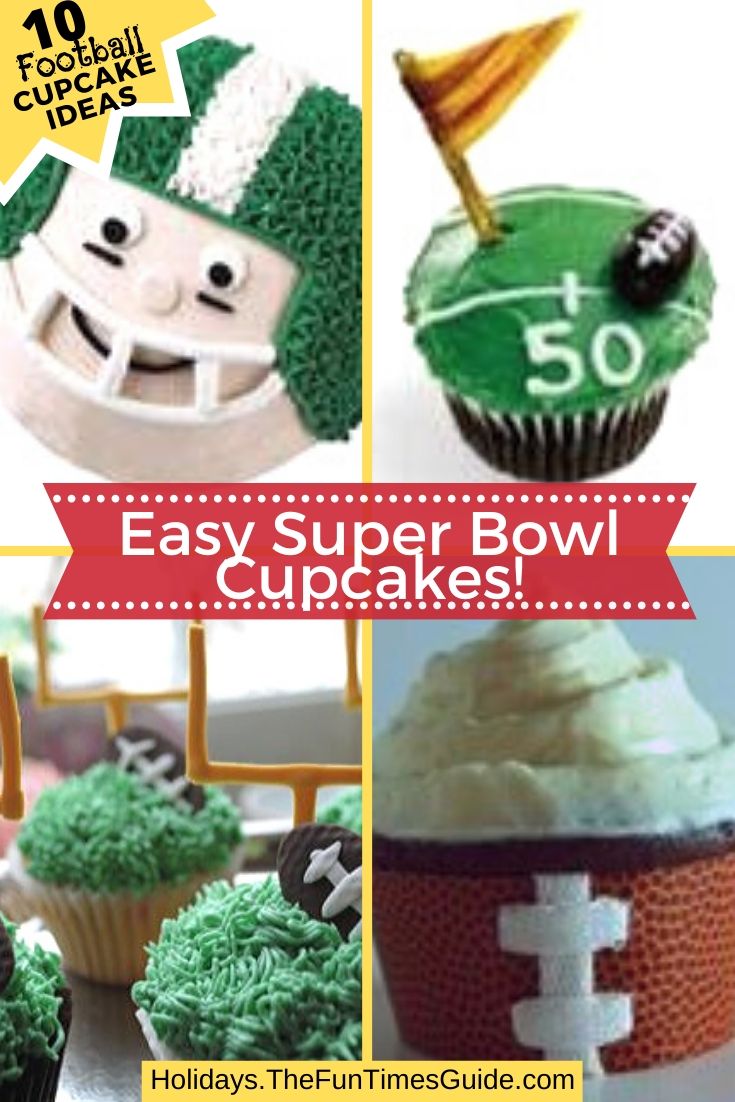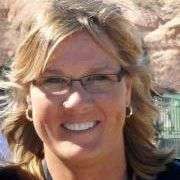 If there is ONE thing I like… it's C H A N G E! The four seasons and major holidays are my favorite times of the year to recharge — and redecorate. I mostly like to share frugal DIY ideas for seasonal home decorating and party planning (for both, indoors and outside). Because who doesn't enjoy entertaining at home?! But even if you don't host many parties, I think you'll appreciate my DIY hacks and clever ways to decorate your house for the major holidays including Halloween, Thanksgiving, Christmas. Because those are the times when people tend to have the most visitors and overnight houseguests.