This post may contain affiliate links. If you buy thru these links, we may earn a commission at no additional cost to you.
---
The following recipe for Buffalo Wings was originally posted on Nick Bakay's Xtra Large Blog at Superbowl.com.
Actor/writer/comedian Nick Bakay, whose 'Manly House of Football' segments can be seen regularly on NFL Network, will be a major voice on Superbowl.com throughout the week.
Since it doesn't look like they're preserving any archives of his stuff, I fear that this great recipe will vanish into thin air in a couple days. Therefore, today's post is in honor of Nick Bakay and his one-of-a-kind "original" Buffalo Wings recipe.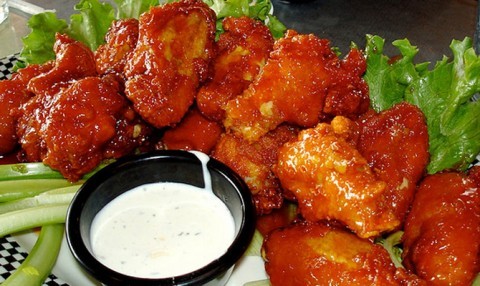 And, while you're homemade Buffalo Wings are sure to be a hit… your guests will also need something wash 'em down with. The "football fan cocktails" which follow are to die for.
Enjoy!
Original Buffalo Wings Recipe
(from Nick Bakay)
If you want the real deal, you sauce 'em, and then you bake 'em.
Here now, a simple and proven technique. Trust me on this, and thank me before you drift into a diabetic stupor.
FOR THE BLUE CHEESE DIP:
1 cup mayonnaise
6 ounces Maytag blue cheese, crumbled
6 ounces plain nonfat yogurt
1/4 cup buttermilk
3 tablespoons seasoned rice wine or white wine vinegar
Whisk mayonnaise, yogurt, buttermilk, vinegar and half of the blue cheese until smooth. Stir in remaining blue cheese and freshly ground black pepper to taste.
Or better yet: Hit the store and buy the thickest glop available.
FOR THE WINGS:
5 lbs. chicken wings, separated into drumette and bow sections, dried overnight on paper towels in the refrigerator
3/4 cup Frank's Original RedHot Sauce (or for the heat seekers, up your Scoville units with the hot sauce of your choice)
1 stick unsalted butter
2 capfuls of white vinegar
Peanut oil for frying
1. Pour yourself an iced shot of tequila, take a deep breath, and contemplate greatness.
2. Preheat oven to 350 degrees.
3. Use aluminum foil to create a "collar" on a Dutch oven, electric frying pan, or cast iron skillet to prevent splattering. Add peanut oil to a depth of about four inches and place over high heat until oil registers 375 degrees on a deep-fat thermometer. Working in batches, place wings in hot oil, stirring frequently with a slotted spoon, being careful not to overcrowd the pot. Cook until wings are golden brown, anywhere from 8-15 minutes. Drain on paper towels, or if you want to kick it old school Buffalo style, drain 'em on some brown paper grocery bags.
4. Meanwhile, in a medium saucepan over medium-high heat, melt butter and mix in Frank's sauce and vinegar for medium-spicy wings. Add more butter to lower spiciness, more sauce to raise spiciness.
5. Place cooked wings in a large bowl, ladle sauce over wings, and toss to coat.
6. Transfer coated wings to a large baking tray, and bake in oven: 15-20 minutes, or until wings are not sticky to the touch.
Serve hot with blue cheese dip, celery sticks and beer.
Savor greatness.
Listen to Bud Light's Real Men of Genius "Mr. Boneless Buffalo Wing Inventor":
https://holidays.thefuntimesguide.com/files/Bud_Light_Real_Men_of_Genius_Mr_Boneless_Buffalo_Wing_Inventor.mp3

Fun Cocktail Drinks – Recipes Just For Football Fans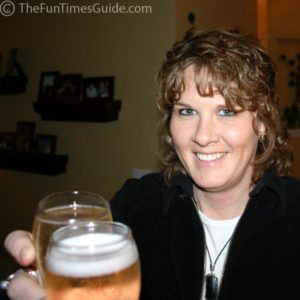 Now, all you need are some cool Super Bowl beverages to go with these hot wings…
How about a Blitz? a False Start? some Touchdown Tea? What about a cocktail with the name of First and Ten? a Fumble? or an Incomplete Pass? Don't miss an Interception, the Punt, and the Quarterback Sack! Only football fans can appreciate what goes into a Time-Out, Touchdown Tea, and a Two-Point Conversion.
All of these and more below: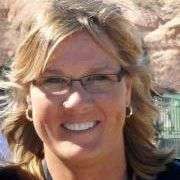 If there is ONE thing I like… it's C H A N G E! The four seasons and major holidays are my favorite times of the year to recharge — and redecorate. I mostly like to share frugal DIY ideas for seasonal home decorating and party planning (for both, indoors and outside). Because who doesn't enjoy entertaining at home?! But even if you don't host many parties, I think you'll appreciate my DIY hacks and clever ways to decorate your house for the major holidays including Halloween, Thanksgiving, Christmas. Because those are the times when people tend to have the most visitors and overnight houseguests.