This post may contain affiliate links. If you buy thru these links, we may earn a commission at no additional cost to you.
---
Are you planning to get together with your sweetie on Valentine's Day?
Maybe you're thinking of a candlelight dinner for two?
Whatever your plans, I've got some interesting ways to create the perfect mood and setting — so you can make this year's romantic Valentines Day one of the most memorable for both of you.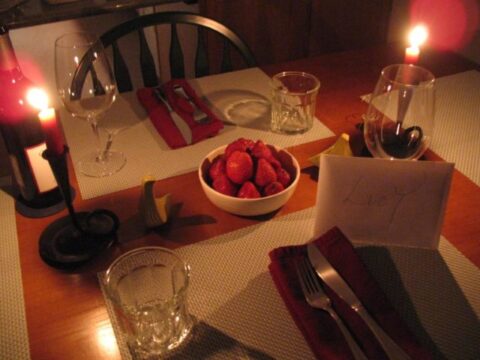 Following are some simple tips for setting the mood in the dining room, bedroom, and all throughout the house…
How To Set The Mood At Home
There are hundreds of interesting ways to set the mood for your special Valentine's Day together.
Whether you're planning a formal dinner, having dinner catered, or ordering take-out here are some things you can do to set the mood.
Interior Decor
Place red cinnamon fragrance candles around the dining room. This provides a romantic atmosphere and the room smells heavenly.
Stair railings can be decorated with white and red helium Valentine balloons.
Add a few vases of red long-stemmed roses or pink, red and white carnations. Another option is to mix roses and carnations for a beautiful bouquet. Flowers can always be purchased from your local supermarket — where they will be far less expensive than buying them from a florist.
When you're setting the table, use a rose bowl as a centerpiece and float red & white roses (or flower-shaped candles). You could also add red stones to long-stemmed martini glasses and add a a tealight candle. Or, get some fun Valentine martini glasses. Another option is to add white decorative stones, add water and float red rose buds. You may also want to use floating candles in the martini glasses. For an elegant look, place several martini glasses in a cluster and create a magnificent centerpiece.
Add red or pink placemats to the table, then place red ribbon around the place settings for added effect. Sprinkle some red, white, and pink rose petals on the table for a big impact.
Add to the romantic setting by playing romantic music — use your own, or consider these romantic music collections.
Finally, turn the lights down low, and light candles all throughout the house. Aromatherapy candles will fill the house with pleasing scents that also have aphrodisiac properties.
In The Bedroom
Turn your bedroom into a romantic space for the two of you.
For starters, be sure the room is completely decluttered, and give the bedroom a deep cleaning the week before Valentine's Day.
Remove all photos from shelves, dressers, and night tables. Replace them with photos of you and your sweetie. Place pictures of exotic places on the walls — including tropical beaches and faraway destinations and landscapes. You don't want any clutter in the bedroom.
Sprinkle pink and red rose petals down the hall and into the bedroom — to set the mood. There are actually lots of fun ways to decorate with rose petals.
Make the bed, and sprinkle it with fragrant red and pink rose petals. This would have an even greater effect on a white or light-colored bedspread.
Fold a red & white blanket or afghan, and place it over the back of a chair — to bring warmth and coziness into the room. You may want to look in stores for a Valentine-themed or heart-shaped rug. And add lots of pillows and soft cushions to the bed and on each of the chairs in the room.
Place pink, red, and white candles throughout the room — for a really romantic feel.
Decorated martini glasses (like those mentioned above) can also be placed on bedside tables for added decoration and ambiance.
Remove the TV from the room and replace it with a CD player. Put on some soft, romantic music.
Place strawberries dipped in chocolate in a dish, and place it on the nightstand or somewhere where it's easily accessible. Feeding your loved one chocolate covered strawberries makes the evening more sensual.
Wear something sexy. Women look beautiful in black, red, or white teddies or a 2-piece bra and panty set. Men might want to wear something special on this night as well, like high cut briefs or G-strings.
See… there are lots of interesting ways to create a romantic ambiance for Valentine's Day!
Use these tips and add a little imagination to come up with a few romantic ideas of your own.
More Romantic Valentines Day Ideas
I love writing about almost anything, especially my life experiences. Other favorite things to write are how-tos, household hints, nature and fishing articles, among others.