This post may contain affiliate links. If you buy thru these links, we may earn a commission at no additional cost to you.
---
Rainbow roses are exactly what they sound like… roses in the colors of a rainbow.
They look like a box of crayons had babies with a bunch of roses.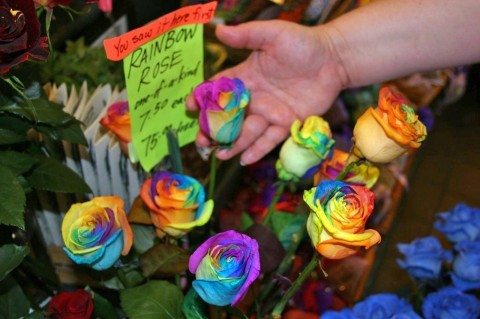 The rainbow rose was designed by Peter Van de Werken, who owns a flower company close to Den Bosch in southern Holland.
Rainbow roses are real roses, but they can't be purchased as a rose bush. They're only available as cut or dried flowers.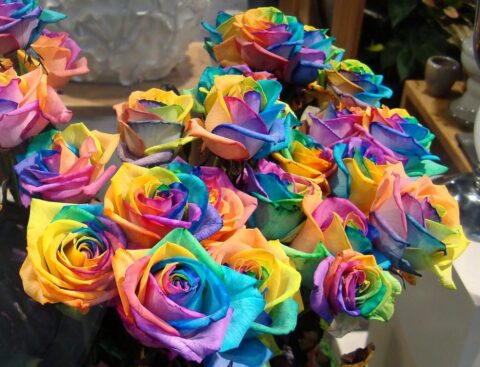 These special roses are made by inserting dye into the stem of the roses while they are growing — which results in the color being absorbed by the petals of the flower.
They are not easy to make, as they take a bit of careful engineering.
Rainbow roses are used to create unusual and striking floral arrangements and wedding bouquets. And they're often given as gifts during anniversaries and holidays (like Valentine's Day).
The truth is people either love them, or hate them! There's no middle ground with these brightly colored flowers in shades of blue, purple, green orange, pink, and yellow.
How Much Do Rainbow Roses Cost?
Florists sell rainbow roses in brilliant arrangements and at various price points.
For example, 5 rainbow roses in a bouquet of greenery can sell for $55, and 2 dozen rainbow roses can cost as much as $325. Prices are even higher during holidays — like Valentine's Day.
Now, if you're going to spend a small fortune on rainbow roses, you may want to consider the freeze-dried version that you can keep around for years at a time. Freeze-dried rainbow roses are also called Happy Roses. They are shipped from the Netherlands to all over the world.
The fact remains, these beautiful and unique roses are difficult to come by, as there are very few vendors selling rainbow roses.
If you can't find rainbow roses for sale at a florist near you, you can create a similar look & feel by purchasing a rainbow bouquet of different colored roses — where each flower is a different color. This still makes a beautiful bouquet that will brighten up your home or special occasion.
Here are some examples of different colored roses making up a rainbow rose bouquet.
How To Make A Rainbow Rose Yourself
If you'd like to try making rainbow roses yourself, here are some handy step-by-step instructions to make rainbow roses 9 different ways!
This video shows how to make a rainbow rose — or a dozen of them — at home yourself:
And now for some helpful links:
Freeze dried rose petals 'Rainbow'
I have been a certified tightwad since I became pregnant with my first child and decided to find a way to stay home with him. I enjoy sharing my experiences in my journey back to financial health and planning for a future — which will include sending 2 kids to college and early retirement.