This post may contain affiliate links. If you buy thru these links, we may earn a commission at no additional cost to you.
---
If you want to see someone swat madly at their hair in a panic, just send them down into a dark basement or seldom-opened shed to retrieve something.
Once they encounter that first sensation of a slimy spider web clinging to their head, it's a wild flailing of arms probably followed by a shriek of "Get it off me!"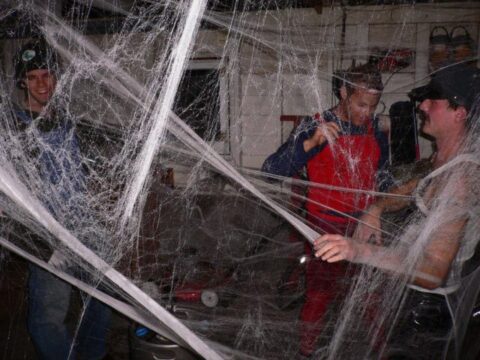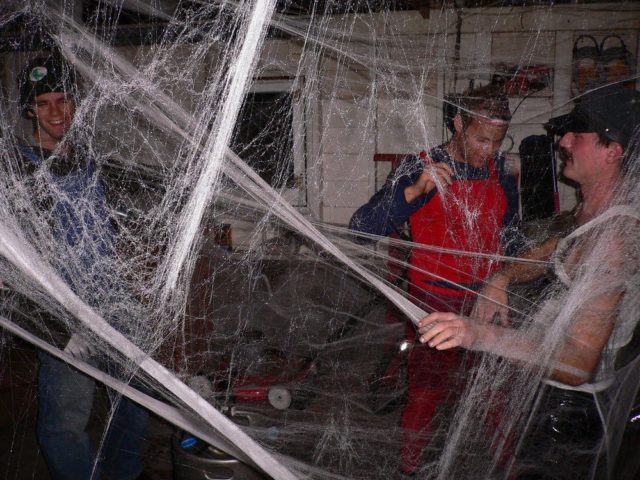 Obviously, this is the perfect reaction one would hope to achieve when decorating their home for Halloween!
In my opinion, all Halloween decorations and props should be rated for "maximum scream effect" — with labels indicating the likelihood of each product generating screams.
If you want an over-the-top reaction from visitors to your home this fall, try making your own Halloween spider webs!
How To Make Halloween Spider Webs
Making your own cobwebs is easy!
And they're a great way to give the impression that certain spaces — inside or outside your home — have remained untouched for decades.
Here's how to make spider webs for Halloween:
All you need is some good old-fashioned cotton balls and a can of aerosol hairspray to make spider webs that are wispy and lightweight. The larger the cotton balls, the easier the task will be.
#2 – Use a cobweb shooter (also called a cobweb spinner).
Complete with web solvent, this attaches to your own electric hand drill and spins away to make a storm of spider webs.
Simply separate the batting into lots of smaller chunks, then start stretching it to make spider webs of whatever shape and size you wish! Here are some tips for doing it yourself:
Using an 80-watt hot glue gun and a few extra items, you can build a gun that creates very realistic cobwebs. Here's another cobweb gun you can build yourself. This video shows how to make your own spider web gun:
Right out of the box, it's ready to spin as many spider webs as you need! Cobweb guns make great looking cobwebs for both indoor and outdoor Halloween decorating.
Here's a video of a cobweb gun in action:
It's a convenient way of weaving your own spider webs using a simple spray can — so there's no mess, and no need for refill attachments. This video shows how Cobwebs in a Can look:
Tulle is web-like material that you unroll and wrap around your room as a decorative border. Or place it in the entryway — to cover large areas with realistic spider webs.
These can be draped over things or stuck into corners. They have a different texture and feel to them than the air-blown cobwebs do.
Halloween Spider Webs - How to Setup Your Giant Halloween Spider Web - www.spiderwebman.net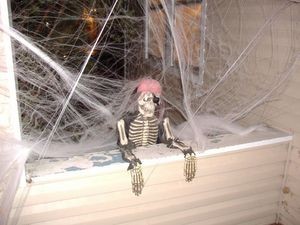 Spider webs are just one of the ways that you can go all out when you're decorating your home for Halloween.
Don't forget to check your local craft stores and department stores for creepy cobwebs and slimy spider webs of all shapes and sizes.
Sometimes you need to see and feel them to know which style you want.
…And don't forget the spiders!
Like this post? Save it to read again later… or share with others on Pinterest!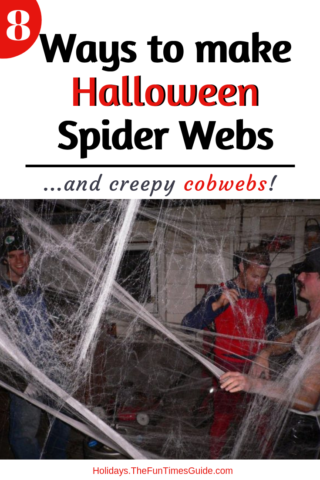 I've been involved in RVing for 50 years now — including camping, building, repairing, and even selling RVs. I've owned, used, and repaired almost every class and style of RV ever made. I do all of my own repair work. My other interests include cooking, living with an aging dog, and dealing with diabetic issues. If you can combine a grease monkey with a computer geek, throw in a touch of information nut and organization freak, combined with a little bit of storyteller, you've got a good idea of who I am.