---
We write about products and services that we use. This page may contain affiliate links for which we receive a commission.
A pinata brings life to a party — especially an outdoor party!
If you're going to hang a traditional pinata indoors, then make sure that you have lots of wide open space — such as a basement — otherwise, your home decor could get in the way when your party guests are swinging away.
Pinatas aren't that expensive to buy, but it's a lot more fun to make your own. You can also involve the kids in this fun craft project!
Following are step-by-step instructions for making a wide variety of pinatas…
How To Make A Pinata Yourself
Materials Needed
A balloon, paper bag, or box – whatever you plan to use as your pinata base
Glue – either Elmer's glue, or make a flour & water mixture
Newspaper – lots of it… torn into strips roughly 1-inch wide by 3-inches long, or longer
String – to hang the pinata
Candy or small toys – to fill the pinata with
Decorating materials of your choice – crepe paper, tissue paper, streamers, scissors, etc.
Tutorials, Tips & Instructions
The step-by-step instructions vary, depending on the size and shape of paper mache pinata you would like to make.
Here are a bunch of fun pinatas…
Take your pick!
⇒ Ice Cream Cone Pinata Tutorial
⇒ Video + Tips For Making A Pinata From A Balloon
⇒ Paper Mache Pinata Instructions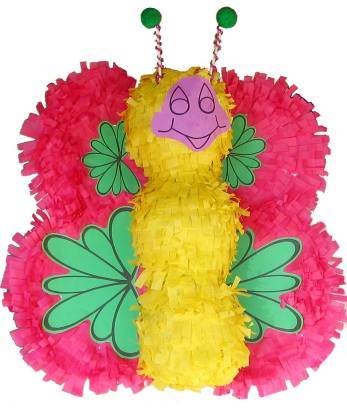 ⇒ Make A Lifesize Zebra Pinata
⇒ Video Tutorial: DIY Balloon Pinata
⇒ Making A Heart Pinata From 2 Long Thin Balloons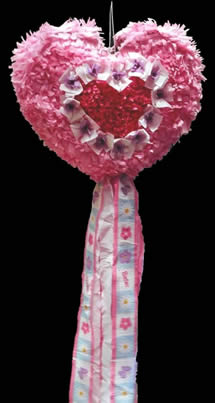 ⇒ Make A Star Pinata For Cinco De Mayo
⇒ How To Make A Number Pinata For A Party
⇒ Video: Make A Bear Pinata Or A Pig Pinata
⇒ Tips For Making A Hot Air Balloon Pinata
⇒ Honey Bee Hive Pinata Instructions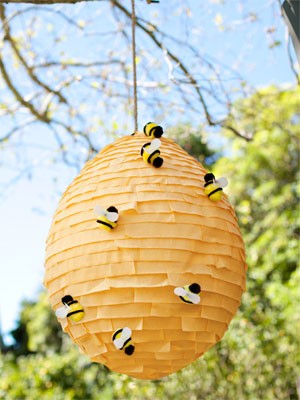 ⇒ Make A 3-Balloon Snowman Pinata
⇒ Make A Pumpkin Pinata For Halloween
Don't miss these helpful Pinata Tips & Tricks.
P.S. And how fun is this?… See how to make pinata cookies! (More fun pictures here.)
If you found this post helpful, it would mean the world to me if you would share it with others on Pinterest:
If there is ONE thing I like… it's C H A N G E! The four seasons and major holidays are my favorite times of the year to recharge — and redecorate. I mostly like to share frugal DIY ideas for seasonal home decorating and party planning (for both, indoors and outside). Because who doesn't enjoy entertaining at home?! But even if you don't host many parties, I think you'll appreciate my DIY hacks and clever ways to decorate your house for the major holidays including Halloween, Thanksgiving, Christmas. Because those are the times when people tend to have the most visitors and overnight houseguests.