This post may contain affiliate links. If you buy thru these links, we may earn a commission at no additional cost to you.
---
Coming up with a great gift for the guy in your life is always difficult.
(Psst… he's probably thinking the same thing about buying gifts for you.)
Whether you're looking for a gift for Valentine's Day, his Birthday, or any other special occasion, here are 8 smart choices that most guys would appreciate.
My top 8 gift ideas for men:
#1 – A Subscription To Netflix
Let's face it, your man works hard all week long. He doesn't always like to go out on a Friday night. A subscription to Netflix is perfect because you'll be planning for some enjoyable evenings in — together. And there's nothing more fun than binge watching movies together!
TIP: Load up his Netflix queue with some of his favorite movies, so they're ready for him to watch immediately.
#2 – A Relaxing Bath Robe
After working hard during the week, your guy probably enjoys coming home and just lounging on the couch. A soft men's bathrobe would be a nice gift — because you'll be showing him how much you appreciate his hard work.
TIP: Fill the pockets of the robe with small items that he really enjoys — like chocolates or some bath oil to help him unwind after a hard day.
#3 – A Subscription To His Favorite "Of-The-Month" Club
They say that the best way to a man's heart is through his stomach. You can test that theory with a subscription to a Meat Of The Month Club. He'll get a variety of tasty meat selections every month. Not only will he look forward to receiving that box every month, but he'll think about you every time it arrives and he makes plans to create some of his favorite dishes.
Some of the best Meat Of The Month Clubs are:
TIP: If meat is not his thing, how about a Wine Of The Month Club subscription? There are as many of-the-month clubs as there are men on this planet. Just pick his favorite!
#4 – A New Suit
Are you tired of bringing him to big family functions and local events in the same tired old suit he's been wearing for years? This is the perfect time to take him to a men's store to pick out a new suit.
TIP: Many men's stores even have BOGO offers on suits this time of the year, so if you play your cards right, you could get him 2 suits for the price of one!
#5 – A GPS
You're not the only woman who's gotten frustrated when her man took a wrong turn and refused to stop to ask for directions. It's really hard for him to admit when he doesn't know where he's going — and with his new GPS, he won't have to. This is a great gift for you both!
TIP: If you really want to knock his socks off, consider a GPS watch. It's a men's sports watch and GPS unit all in one.
#6 – Other Electronic Gadgets
You can never go wrong with some type of electronic gadget. Think hard. Is there something that he wanted for Christmas, but didn't get? It might be a new iPod, that new smartphone he's talked about all year long, or even a flat screen TV. Most guys will enjoy an electronic gadget — no matter what it is! And you'll be excited to have given him something that he'll be able to use every day.
TIP: I love to give digital photo frames as gifts. Everyone loves them! Some you can add photos to from any computer (yep, even your own computer, from your own apartment). Others you can simply pre-load with photos on a memory card, and then change them out whenever you want to.
#7 – A Personalized Photo Puzzle
Okay, so guys don't traditionally enjoy working on puzzles. But a personalized photo puzzle — made from just the right photo — is a truly clever (and thoughtful) gift idea for men.
Some ideas:
A romantic photo of the two of you together (vacationing, partying, getting married, etc.)
A thoughtful photo of your entire family (with kids, relatives, pets, etc.)
A sexy photo of you (wearing his favorite outfit or taken in a meaningful location)
TIP: Later, you can cover the finished puzzle with glue (or mod podge) and then frame it — for a lasting memento made from a simple photograph!
#8 – Sexy Lingerie
Above all, what your man probably wants most is some time alone with you.
Even if you've always shuddered at his idea of sexy lingerie — make a change this year, and pick up something that you know is exactly his taste.
TIP: If you're really feeling adventurous, why not buy him a fun, sexy card game or board game, too? You won't have to wear the lingerie for very long, and he'll be sure to show you his appreciation.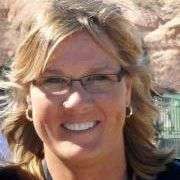 If there is ONE thing I like… it's C H A N G E! The four seasons and major holidays are my favorite times of the year to recharge — and redecorate. I mostly like to share frugal DIY ideas for seasonal home decorating and party planning (for both, indoors and outside). Because who doesn't enjoy entertaining at home?! But even if you don't host many parties, I think you'll appreciate my DIY hacks and clever ways to decorate your house for the major holidays including Halloween, Thanksgiving, Christmas. Because those are the times when people tend to have the most visitors and overnight houseguests.