Okay, so it may be too late for this Father's Day.
But it's never too early to start planning for the perfect gift for Dad next Father's Day.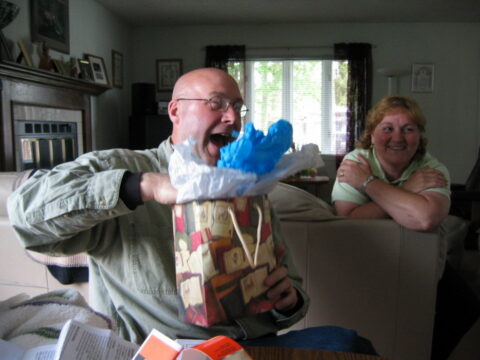 And with price tags like these, you'll probably have to start saving now anyway…
Did you know?
The average person is expected to spend only $88.80 on gifts for Dad, compared to the $122.16 spent earlier this year on Mom.
—CNN Money
Some Father's Day Dream Gifts
Of course, everyone knows that the #1 HOTTEST gift idea for men this year is Jack Black For Men (hair & grooming products). I am not kidding!
But, if you're looking for something a little different — something that would appeal to the adventure-seeker in him — consider these one-of-a-kind gift ideas:
Fly-fishing in Vermont – $385
Nascar driving in Dallas – $129
Marquis Jet Card for 25 hrs of private flight time – $116,000 and up
Day at the Ball Park (Wrigley Field) with Ryne Sandberg – $35,000
Game of One-on-One with Phoenix Suns Eddie House – $3,500
Air Combat Dog Fight – $995
The Ultimate Round of Golf with former NBA player Steve Kerr – $18,000
[For more details: CNN Money]
But Wait, There's More!
Of course there are many, many more great ideas like this to choose from.
Check out Xperience Days online for the most creative gift ideas on the planet! They've got something for everyone with a sense of adventure. Just choose your category: Action, Airborne, Driving, Indulgence, Lifestyle, Water.
Signature Days offers one-of-a-kind experiences as gifts. Some of the most popular: Hang Gliding, Spa Treats, Fitness, Rafting, Cooking, Fishing, Paintball, Life Coaching, The Arts, Scuba Diving, Wine, Golfing, Personal Chef, Helicopter, Nutrition, Dance Lessons, Kayaking, Sailing, Napa Valley, Grand Canyon, Housewarming, Ride a NASCAR, Sports Cars.
Still need more ideas?…
Here are some high-tech gadgets for $5,000 and less. Too pricey?… Don't miss their $2,000 and less options. Of course Dad would probably be just as happy with a gift from the $500 and less category… or even the $300 and less gadgets.
Personally, I think the best Fathers Day gift is a grill! It's something he'll surely enjoy, and something you can use too! (Well, that's what I bought Jim one year, anyway.)