This post may contain affiliate links. If you buy thru these links, we may earn a commission at no additional cost to you.
---
Think Halloween activities shouldn't just be for kids? Like to get scared and enjoy the creepy things about Halloween season too? Looking for scary things to do at night… alone or with your friends?
Halloween is definitely the season to get your scare on — but it isn't just for kids. Adults can join the fun too, and you don't have to put up with cheesy tricks or sticky treats.
I have a few fun ways to scare yourself (or your friends) — if you're into that type of thing.
Following are 7 intense and scary things to do that will leave you wondering why you ever decided to attempt this in the first place!
#1 – Stay In A Real Haunted House Or Haunted Hotel
When you book a room at a hotel or bed and breakfast that is known for being haunted, let them know that you're going there for the scare.
Tell them you'd love a history of the place, and ask if they could send you more information or provide you with a website that has the information online.
Also, ask if they have anything specific planned for the Halloween season. If they're doing any special Halloween activities, try to book your stay on one of those nights!
TIP: When staying at the haunted house, take tons of pictures. You never know if you will end up with an orb or ghostly mist in the shot. If you do, share them with the proprietors — your personal experience will become a part of history.
Here's our list of real haunted houses you can stay at in the U.S.
#2 – Try Some Scary Challenges
Want to really creep yourself out? Get together some friends and try one or more of the following scary challenges.
Most people are drawn to the "warnings" that come with participating in scary challenges like these. I mean, who doesn't like tempting fate once in awhile — right?
Try these… if you dare:
#3 – Go To A Haunted Halloween Event
Look up all of the haunted activities in your area. There are bound to be some haunted houses, haunted woods, haunted barns, haunted corn mazes, and haunted hayrides near you.
Read online reviews to find the scariest one, then go!
Start here with our own list of the scariest haunted houses in the U.S.
In fact, you might want to attend many of them, and then write your own online reviews. You see, every haunted house in the country is competing to earn the title of "the most horrifying." Do them a favor… write a review and encourage others to attend the ones you think are the scariest.
TIP: When you go to a haunted house, there will be people closely following you — dressed as the scariest ghouls of your nightmares. Slimy things and creepy crawlies that move on the walls and the floors will freak you out. You may know that it's all fake, but when you're caught up in the moment and walking through a darkened haunted house, you are going to be scared silly — trust me!
#4 – Have A Séance
There's nothing scarier than asking the dead to come and join the party, right?
Light some white candles and turn out the lights. Have your group sit around a table. Be calm and hold hands.
Here's how to conduct a séance at home with 5 tips for contacting the dead.
If you happen to have a friend who is a medium, have them do the talking. Otherwise, let the person who is the most serious about believing in spirits do the talking.
TIP: Ask the spirits to tip the table or knock on the wall to answer yes or no questions. (Try not to jump too high when you hear that first knock!)
#5 – Enjoy A Horror Movie Marathon
Make it a Halloween horror theme night at your house by showing the best horror movies you've ever seen.
Pop some popcorn, get cozy, and let the scary movies roll!
Just for fun… here's how to survive watching a scary movie, plus 50+  tips to avoid dying in a scary movie.
TIP: Try to watch at least one horror movie that you haven't seen before — or haven't seen in a long time. And be sure to include the one that has kept you up at night more than once! You want to have at least one time where you're so scared you have to cover your eyes.
#6 – Tell Real Horror Stories
Have a campfire outside in your backyard (or in the woods) with some friends — and bring along some real ghost stories with you.
They can be local lore or short stories out of a book, it doesn't matter. But real ghost stories have a bigger effect on people than those that are made up.
While you're trying to stay warm around the fire, you'll feel the chills going up your spine during this scary Halloween activity. (Watch out for that friend who will sneak up behind you and scream, "Boo!")
Here are some real horror stories you can share or listen to (in the dark):
#7 – Go Out Looking For Ghosts
I live in Tennessee, so I created a list of all the best places to find ghosts and haunted places in Tennessee. I'm sure similar lists exist for other states, too.
Here are the best places to find ghosts by state:
Another fun way to look for ghosts and haunted places near you is to use an app created specifically for that purpose. I have an Android phone. This Ghost & Spirit App is one of the most popular for Android:
The Best Ghost App "Ghosts And Spirits"
Here are the best places to find other ghost apps:
Without a doubt, Halloween is a great time to scare yourself… and your friends! Hopefully, one of these scary Halloween activities will feed your scare-meter enough to last throughout the year.
Even More Scary Things To Do Alone… Or With Others
In addition to the links I've included above, here are some resources to help you find other scary things to do this Halloween: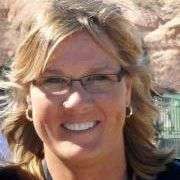 If there is ONE thing I like… it's C H A N G E! The four seasons and major holidays are my favorite times of the year to recharge — and redecorate. I mostly like to share frugal DIY ideas for seasonal home decorating and party planning (for both, indoors and outside). Because who doesn't enjoy entertaining at home?! But even if you don't host many parties, I think you'll appreciate my DIY hacks and clever ways to decorate your house for the major holidays including Halloween, Thanksgiving, Christmas. Because those are the times when people tend to have the most visitors and overnight houseguests.