This post may contain affiliate links. If you buy thru these links, we may earn a commission at no additional cost to you.
---
Single? Date-less on Valentine's Day?… Check this out!
The list of unique romantic things you can do as a couple on Valentine's Day is endless.
Perhaps you'll find something fun (or practical) from my own list of creative ideas for couples on Valentine's Day.
If not, then rest assured… you are guaranteed to find something fun in the Top 10 lists at the end of this article.
Enjoy!
1. Make an appointment for the two of you to get your picture professionally taken together.
2. See what his Horoscope is for this day & do something silly around that "theme".
3. Spice up your relationship… here are a few ways to get creative with digital photos.
4. Attach a $50 bill to a lingerie store ad or catalog, along with a note, "You choose."
5. Give her a gift certificate for any of the following: professional massage, day at a spa, manicure, pedicure, facial from a local spa or nail salon.
6. Spend a couple hours together writing romantic ideas on separate slips of paper. After you get a total of 100 romantic ideas on 100 pieces of paper, then fill a jar with them. Every Sunday, from this day on, alternate who picks one and has to implement it by the following Sunday — at which point the other partner will pick a new romantic idea and have a week to follow through with it.
7. Make a list of the top 10 reasons you love him/her.
8. Purchase an "I Love You" helium balloon from a local party store, then drive to his work and attach the balloon to the handle of his car door or windshield wiper.
9. Have some friends over and play some fun couples party games.
10. Spend the day just photographing each other… outdoors (at a local park, walking downtown, at the beach, on the playground), as well as indoors. Make sure you get someone to take some photos of the two of you together. Take some candids, and some posed. Then frame one!
Valentine's Day Top 10 Lists
Top 10 Original Dinner Date Ideas 
Top 9 Simple Romantic Tips For Guys
Top 10 Things To Do On Valentine's Day (…from a guy's perspective)
Top 6 Things To Do On Valentine's Day (…from a girl's perspective)
Top 10 Romantic Things To Do At Home Together
Top 10 Valentine's Day Gifts
Top 12 Quirky Valentine's Day Dates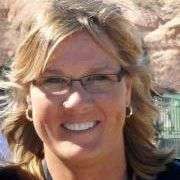 If there is ONE thing I like… it's C H A N G E! The four seasons and major holidays are my favorite times of the year to recharge — and redecorate. I mostly like to share frugal DIY ideas for seasonal home decorating and party planning (for both, indoors and outside). Because who doesn't enjoy entertaining at home?! But even if you don't host many parties, I think you'll appreciate my DIY hacks and clever ways to decorate your house for the major holidays including Halloween, Thanksgiving, Christmas. Because those are the times when people tend to have the most visitors and overnight houseguests.