This post may contain affiliate links. If you buy thru these links, we may earn a commission at no additional cost to you.
---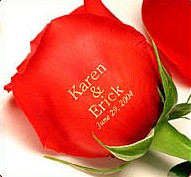 Our readers have enjoyed the personalized products we've mentioned here before, including personalized M&M's, personalized greeting cards, personalized cartoon prints, and personalized U.S. postage stamps — to name just a few.
Now, there's another great personalized product available that makes a great gift for someone you love… Roses!
How about a dozen personalized roses (fresh, 'live' ones!) — inscribed with your own customized message or embossed with a personal photo — for that someone special?
Speaking Roses is the original creator of Personalized Embossed Roses. They have one-of-a-kind unique bouquets of roses for the following special occasions:
Customized Rose Packages
Anniversary roses
Birthday roses
Business roses
Christmas roses
Congratulations roses
Easter roses
Get Well roses
Good Luck roses
Halloween roses
July 4th roses
Kentucky Derby roses
Love & Romance roses
Mother's Day roses
New Baby roses
St. Patrick's Day roses
Sympathy roses
Thank You roses
Thanksgiving roses
Thinking of You roses
Valentine's Day roses
Wedding roses
View pictures of personalized roses here.
Type of Personalized Flowers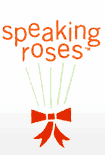 fresh roses (red, white, pink, yellow)
roses mixed with other flowers
silk roses (red, white, pink, yellow)
timeless memorabilia boxed arrangements
even rose petals (red, white, pink, yellow)
…Each individual rose comes with your own customized message embossed or inscribed on it!
Choose Your Own Customized Message
The custom rose packages at Speaking Roses are so personalized that you get to choose up to 4 lines of text (or go with one of their standard embossed messages).
You can even have a personal photo or logo embossed onto a rose… or a dozen roses!
Be prepared… just about every type of personalization comes with its own pricetag. But these personalized embossed 'live' roses are definitely worth it.
Personalized roses from Speaking Roses and More make a VERY classy gift for that very special someone at that very special moment!
The company has customized flora at $70 per dozen for the Kentucky Derby, the Indy 500 victory party, the Bill Clinton library opening, and the Radio Music Awards (for which Janet Jackson's image was etched onto a dozen white roses). — Inc Magazine: 5 Ideas To Watch
More About Personalized Roses
Meet Blaine Harris, CEO of Speaking Roses.
While you're at it, why not send some chocolate covered strawberries along to sweeten the deal?
Don't miss this one-of-a-kind pet bed that's shaped like a big red rose petal!
The Inked Rose is another source of personalized, embossed roses.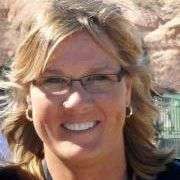 If there is ONE thing I like… it's C H A N G E! The four seasons and major holidays are my favorite times of the year to recharge — and redecorate. I mostly like to share frugal DIY ideas for seasonal home decorating and party planning (for both, indoors and outside). Because who doesn't enjoy entertaining at home?! But even if you don't host many parties, I think you'll appreciate my DIY hacks and clever ways to decorate your house for the major holidays including Halloween, Thanksgiving, Christmas. Because those are the times when people tend to have the most visitors and overnight houseguests.