This post may contain affiliate links. If you buy thru these links, we may earn a commission at no additional cost to you.
---
Yes, I know… Mom is worth more far than a buck.
But can you help it if some of the best, high-quality, professional makeup is priced reasonably enough for people like you & me (and Mom!) to be able to afford it?
I think not.
Here's a one-of-a-kind Mother's Day gift that your mom is sure to love…
Give Her A Bouquet Of Makeup This Mother's Day
Mom's colorful bouquet doesn't have to be of the fragrant flowery kind.
That's right, Mom's sure to enjoy trying out some fun new makeup this Mother's Day.
And you're bound to have just as much fun giving such a great gift — one that seems much more expensive than it is.
Since e.l.f. makeup only costs $1 each, imagine how much you makeup you could get Mom for just a few bucks!
Why Moms Love e.l.f. Cosmetics
e.l.f. makeup comes in so many different colors and styles that it's easy to personalize a gift based on her own needs. (Choose specific products for her eyes, or her lips, and/or her face… and in only the shades she would look great in!)
You can pick some fun new shades for her to try. Or, get her an e.l.f. gift certificate, and let her choose for herself.
Either way, show Mom how much you love her with this one-of-a-kind, personalized gift that any mother would surely love to receive.
Why?
It's a feminine, girly type of present — yet not too fancy — so she'd definitely enjoy using it each and every day. (It will make mom feel special, since it's something just for her. And it looks better on her than say, that new vacuum cleaner she wants.)
It's an inexpensive gift — so inexpensive that you can afford to get a huge sampling of great products for next to nothing. (Lots of little gifts wrapped in one big package are always fun to open!)
It's something many Moms don't take the time to buy for themselves — new makeup breaks you from the same old routine, boring, ho-hum makeup that you've used day in & day out for YEARS! (Sometimes, it's just time for a change.)
It's great for "fun" Moms who aren't afraid to try new things and who like to have a good time doing it. (e.l.f. makeup makes you feel like a kid again… it's so affordable to experiment and have fun with!)
With every e.l.f. order between now and May 14th, mention couponcode FORMOM and you get a free "I Love Mom" gift!
RELATED:
Why I Love E.L.F. Makeup
e.l.f. Elements… the newest addition to the product line
All about e.l.f. makeup and cosmetics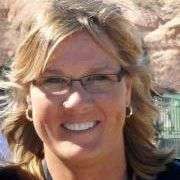 If there is ONE thing I like… it's C H A N G E! The four seasons and major holidays are my favorite times of the year to recharge — and redecorate. I mostly like to share frugal DIY ideas for seasonal home decorating and party planning (for both, indoors and outside). Because who doesn't enjoy entertaining at home?! But even if you don't host many parties, I think you'll appreciate my DIY hacks and clever ways to decorate your house for the major holidays including Halloween, Thanksgiving, Christmas. Because those are the times when people tend to have the most visitors and overnight houseguests.