Love those Bud Light Real Men of Genius commercials you hear on the radio?
Me too. Here's just one example:
Listen to Bud Light's Real Men of Genius "Mr. Pro Sports Heckler Guy":
https://holidays.thefuntimesguide.com/files/Bud_Light_Real_Men_of_Genius_Mr_Pro_Sports_Heckler_Guy.mp3

Good news!…
Now you can send a personalized Real Men of Genius birthday greeting to one of your friends!
Yep, that familiar tune is playing in the background, as your friend reads a special message that you've created just for them.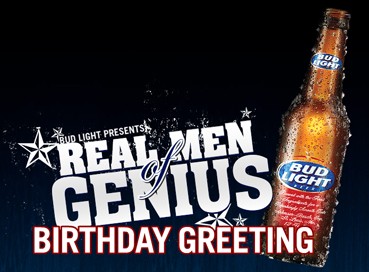 From the Bud Light birthday site [Link just goes to the main Bud Light site now.]:
Immortalize your friends forever with their very own Real Men of Genius Birthday Greeting from Bud Light. Just enter their names and birthday wishes and send your personalized greeting directly to their phones.
Whether you actually send it to someone's phone or not, the funniest part is just listening to all of the options! (…because you get to preview it before you actually send the greeting to someone's phone)
There are probably hundreds of versions which can result, based on the personalized options which you select. I just changed one of the 5 variables that you fill in about the person, and I got a whole new script.
Here's one version…
Bud Light presents Real Men of Genius
(Real Men of Genius)
Today we salute you…
[Friend's name], Mr Really Special Birthday Celebrator
(Mr Really Special Birthday Celebrator)
Some say you're a year older
Some say a year wiser
And some say why is a [their age]-year-old still celebrating their birthday
(Because I can)
What do you wish for while blowing out your candles?
A [random item], a [item they really want], and that you don't pass out while blowing out your candles
(I should probably sit down)
New shirt – check
New hair cut – check
Friends taking you someplace other than [their favorite place] – uncheck
(Happy health code violation)
So crack open an ice cold Bud Light oh admiral of the ageless
Because even though you're [their age], you'll always be #1 with us
(Happy Birthday to you)
Here's another version…
Bud Light presents Real Men of Genius
(Real Men of Genius)
Today we salute you…
[Friend's name], Mr Really Special Birthday Celebrator
(Mr Really Special Birthday Celebrator)
Some say you're a year older
Some say a year wiser
And some say why is a [their age]-year-old still celebrating their birthday
(Because I can)
They say with age comes wisdom
Unfortunately, it also comes with varicose veins and thinning hair
(I'm wearing black socks with sandals)
Nothing beats celebrating in a nice restaurant, surrounded by friends
Or in your case, surrounded by pissed off waiters singing your special Birthday song
(Happy Birthday, stranger)
So crack open an ice cold Bud Light oh admiral of the ageless
Because even though you're [their age], you'll always be #1 with us
(Happy Birthday to you)
And yet another…
Bud Light presents Real Men of Genius
(Real Men of Genius)
Today we salute you…
[Friend's name], Mr Really Special Birthday Celebrator
(Mr Really Special Birthday Celebrator)
Some say you're a year older
Some say a year wiser
And some say why is a [their age]-year-old still celebrating their birthday
(Because I can)
There is no present good enough for such a close friend
And we have looked everywhere
Our basement, our attic, our garage
(I even looked in the cookie jar)
Tonight you're going to celebrate in your favorite bar
With all your friends from the office
And that should be easy
Since you work from home
(Could I get a table for one?)
So crack open an ice cold Bud Light oh admiral of the ageless
Because even though you're [their age], you'll always be #1 with us
(Happy Birthday to you)
Go to the Bud Light Birthday Greeting site. [They have removed the Budlight Birthday site and replaced it with the main Bud Light site. Sorry.]
Maybe you'll enjoy this instead…
Listen to Bud Light's Real Men of Genius "Mr. Forgot Her Birthday Man":
https://holidays.thefuntimesguide.com/files/Bud_Light_Real_Men_of_Genius_Mr_Forgot_Her_Birthday_Man_Live.mp3