This post may contain affiliate links. If you buy thru these links, we may earn a commission at no additional cost to you.
---
I saw this in All You magazine…
It's a fun way to make colorful (and tasty!) cupcakes for a football party.
Having a viewing party for the upcoming Superbowl?
These would definitely be a hit!
In the magazine, they included the complete recipe for making "Big-Game Cupcakes". They don't have the recipe for these fun football cupcakes on their website, so I'm sharing it here for all to enjoy.
How To Make Football Party Cupcakes
First, you start with "easy vanilla cupcakes". Then add "vanilla buttercream icing". Finally, top individual cupcakes with one of the following:
Edible Footballs & Goalposts — footballs are made from caramel candies, with white icing as the stripes on the ball. Goal posts are made with pretzel sticks held together with icing.

Pennant Flags — simply press fruit candies (like Starburst) flat, then cut into the shape of sports flags, attach the flags to pretzel sticks, and pipe some icing messages onto the flags.

Tiny Helmets — made from the same fruit candies in different colors, cut in the shape of football helmets, and then pipe some icing onto the helmets for decoration.
Click pictures to view the complete recipes & instructions for assembling these tasty little treats: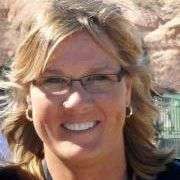 If there is ONE thing I like… it's C H A N G E! The four seasons and major holidays are my favorite times of the year to recharge — and redecorate. I mostly like to share frugal DIY ideas for seasonal home decorating and party planning (for both, indoors and outside). Because who doesn't enjoy entertaining at home?! But even if you don't host many parties, I think you'll appreciate my DIY hacks and clever ways to decorate your house for the major holidays including Halloween, Thanksgiving, Christmas. Because those are the times when people tend to have the most visitors and overnight houseguests.