This post may contain affiliate links. If you buy thru these links, we may earn a commission at no additional cost to you.
---
My friend Suzie sent this to me…
Jim & I were laughing like crazy, because she used 2 pictures of Jim and 2 pictures of me.
And one of each was from a snorkeling photo taken on our honeymoon in the Bahamas.
Her title: "And you said you can't dance!"
(She was referring to this.)
Click photos to view the video e-cards in action:


Elf Yourself — You just upload 4 different head shots and they start dancing right before your eyes.
TIP: There's a toll-free number you can call to record a short message for your friends or relatives (whoever your sending your e-card to). That's really fun!
But wait, there's more…
Turns out, I'm one of the last ones to discover Office Max's Elf Yourself holiday e-card.
On the CBS Early Show, they reported on several of these types of viral videos. They said the Elf Yourself one has been viewed by over 65 million people already!
Here are the other viral video e-cards they mentioned on the show …just in case you'd like to send your own personalized holiday e-card in the form of a video.

Scrooge Yourself — Also from the folks at Office Max, this one is a little less popular, because it's a little less "happy". Give it a shot… yet another way to make yourself dance around like an idiot.
TIP: Be different… I like it better when you use a headshot with a crazy fun face, rather than a scrooge-like face.

Simon Sez — You can choose "kid-friendly" or "naughty & nasty". Then type in "commands" that you want the Santa in the picture to do.
TIP: There's a list of suggested commands below the picture — type those and you see some pretty funny stuff.

Simpsonize Me — Yep, you can "simpsonize" yourself by taking a picture on your hard drive, choosing your favorite Simpsons character, and boom… you take on the features of that same character!
TIP: Unless you use a pre-cropped photo of just your face, it takes several minutes for it to "find" your face. (The first time, mine failed.) So, for best results, start with just a picture of your face, close-up.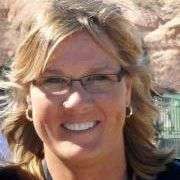 If there is ONE thing I like… it's C H A N G E! The four seasons and major holidays are my favorite times of the year to recharge — and redecorate. I mostly like to share frugal DIY ideas for seasonal home decorating and party planning (for both, indoors and outside). Because who doesn't enjoy entertaining at home?! But even if you don't host many parties, I think you'll appreciate my DIY hacks and clever ways to decorate your house for the major holidays including Halloween, Thanksgiving, Christmas. Because those are the times when people tend to have the most visitors and overnight houseguests.