---
We write about products and services that we use. This page may contain affiliate links for which we receive a commission.
Have you noticed this?… More and more drivers are decorating their vehicles with things like Christmas lights, garland, and wreaths.
Here's a Volkswagen Beetle we drove past… The car is black, and it was the dead of night, so it's kind of hard to see, but you get the idea. It was the cutest thing to watch this little VW bug motor on down the road!
Tis the season…
For decorating your roof rack, the grill of your SUV, and your windows with holiday decorations!
More than ever, I've seen dozens of drivers decorating their vehicles this year.
It's kinda crazy. But I have to admit, it's kind of fun to look at when you're driving down the road.
I also saw a couple of SUVs decorated with reindeer antlers. (You know, one on each of the front door windows.) But I didn't have my camera on me that day.

Here are a few fun pictures people have shared online: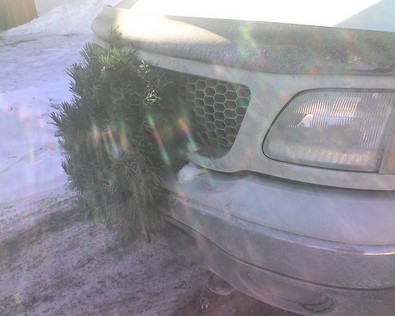 I'll try to snap some more pictures like this when I'm out & about for my little collection here. If you happen to have a photo of something similar, please do share!
If there is ONE thing I like… it's C H A N G E! The four seasons and major holidays are my favorite times of the year to recharge — and redecorate. I mostly like to share frugal DIY ideas for seasonal home decorating and party planning (for both, indoors and outside). Because who doesn't enjoy entertaining at home?! But even if you don't host many parties, I think you'll appreciate my DIY hacks and clever ways to decorate your house for the major holidays including Halloween, Thanksgiving, Christmas. Because those are the times when people tend to have the most visitors and overnight houseguests.