This post may contain affiliate links. If you buy thru these links, we may earn a commission at no additional cost to you.
---
Whether you've already found the love of your life, or you haven't…
Here are some fun facts about those Valentine kisses that you might be able to use to your advantage.
#1 A 1-minute kiss works off 26 calories. (That probably has something to do with the fact that a passionate kiss quickens your heartbeat to 100 beats per minute.)
#2 People are nearly twice as likely to lean right instead of left when puckering up.
#3 American men will kiss approximately 24 women before marrying. Women will lock lips with 17.5 men before tying the knot.
#4 Men who kiss their wives goodbye in the morning earn a higher income than men who don't pucker up. (It has something to do with guys who practice rituals of affection tending to be more stable and methodical, thus higher earners.)
#5 Kissing reduces tooth decay because the extra saliva generated by a lip-lock cleans your teeth.
#6 Nine out of ten people in happy relationships kiss their partner before bed.
Source: Redbook
More Fun Stuff About Kisses
Top 10 Ways To Kiss Her For The First Time
Kissing Tips: From Guys… For Guys
How To Send Personalized "Live" Roses
Fun Last-Minute Romantic Ideas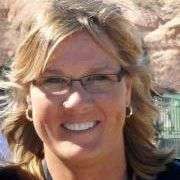 If there is ONE thing I like… it's C H A N G E! The four seasons and major holidays are my favorite times of the year to recharge — and redecorate. I mostly like to share frugal DIY ideas for seasonal home decorating and party planning (for both, indoors and outside). Because who doesn't enjoy entertaining at home?! But even if you don't host many parties, I think you'll appreciate my DIY hacks and clever ways to decorate your house for the major holidays including Halloween, Thanksgiving, Christmas. Because those are the times when people tend to have the most visitors and overnight houseguests.