This post may contain affiliate links. If you buy thru these links, we may earn a commission at no additional cost to you.
---
You may have seen websites that help you make food recipes using the ingredients you already have on hand. (I use them quite frequently.)
Now, there are similar sites that help you make mixed drinks using the alcohol and mixers that you already have on hand!
How cool is that, right?
So, what's in your liquor cabinet right now?…
At My Bar, you can add or remove ingredients on the fly.
You just have to log-in to change your ingredients lists. Otherwise, it will only let you add ingredients, but not remove the ones that you don't have.
It's definitely worth it to log in real quick. It's a fun and useful site.
See how My Bar works in this video.
Another good one is Drink Nation. You can add ingredients and remove ingredients to find recipes for some tasty mixed drinks.
You can also fine-tune your search to include "all" of the ingredients you've listed, or "any" of the ingredients you've listed.
In My Bar makes it easy to select alcohols and mixers from 2 separate lists. You simply hold down the Control key while you select individual ingredients from those 2 lists with your cursor.
Then, simply "generate a list of drinks you can make" to see all of the drink recipes.
Cocktail Builder is another good one. You just start typing in the bottles of alcohol, mixers, or ingredients that you currently have on hand, then you immediately get to see a list of cocktails that you can make.
Plus, you see at a glance any other ingredients you would need to make additional drinks.
Super Cocktails is a little different in that you simply type the ingredient you have — rather than choosing them from a list.
Then you see a list of all the recipes you can make in order of Rating, Alcoholic vs Nonalcoholic, and % Alcohol. It's the only one that shows the alcohol content that I'm aware of.
More Fun Drink Recipes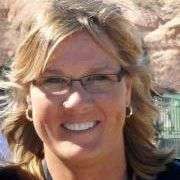 If there is ONE thing I like… it's C H A N G E! The four seasons and major holidays are my favorite times of the year to recharge — and redecorate. I mostly like to share frugal DIY ideas for seasonal home decorating and party planning (for both, indoors and outside). Because who doesn't enjoy entertaining at home?! But even if you don't host many parties, I think you'll appreciate my DIY hacks and clever ways to decorate your house for the major holidays including Halloween, Thanksgiving, Christmas. Because those are the times when people tend to have the most visitors and overnight houseguests.