This post may contain affiliate links. If you buy thru these links, we may earn a commission at no additional cost to you.
---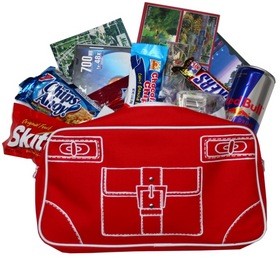 Even if you don't have a child who is college age and away at school, I'll bet you know someone who is.
College kids are nearly always short on something (or broke, as most of us know from personal experience), so getting a care package from home can be a really nice treat.
This is especially true if they have been living on Ramen noodles and Cheetos. And if it's the middle of the quarter or semester, then you can almost bet that money is going to be tight until they can go get their financial aid check for the next quarter.
Here are some great ideas for care packages for kids who are away at college…
Some ideas: skin cream, shampoo, conditioner, shaving cream, disposable razors and other toiletries that can be safely shipped.
These are the things that college kids may find they don't have extra money for all the time. And trust me, as a former college kid, if it comes down to buying food over shampoo, you can bet I bought food and used bar soap to wash my hair!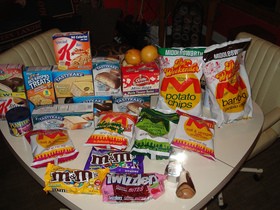 Think: potato chips, pretzels, hot cocoa, instant oatmeal, and microwave popcorn to name a few.
Try to choose healthy items as much as possible, because your college age child is probably already eating plenty of junk food.
So, it's a good idea to slip in some dried fruit, raisins, ganola bars and things like that too.
One thing your college age child may not have extra money for is over-the-counter medications that can make them feel better and help them get through their classes when they have a cold or the flu.
Items to include: cold medicine, allergy relief, cough drops, and pain relief medicines.
Also consider adding flavored Zinc lozenges, because dorms in particular are breeding grounds for all kinds of bugs. Zinc has been scientifically proven to reduce the duration of a cold — if you start taking them at the first onset of symptoms.
#4  Vitamins
As well all know, college age kids are notorious for not always eating healthy.
Making sure your child has a good supply of a multi-vitamin is a wise idea and will help to make sure that what they aren't getting from food, they are at least getting from their supplement.
While it is always best to get the nutrients you need from the food you eat, sometimes that isn't always possible.
#5  Quarters
This is a big one since your child will most likely be doing laundry at a college laundromat and using vending machines that are stocked with soft drinks and other food items.
Sending rolls of quarters is a great way to help ensure she has clean clothes, bus fare, and vending machine money, without her having to break the bank.
Even with iPods, college kids are still downloading music and other files onto thumb drives and CDs for their friends and for themselves.
CD's are also handy for saving school work on, so purchasing a pack of 50 and sending them along will be a practical gift idea.
#7  Gift cards
Gift certificates to their favorite clothing store, favorite restaurant, or even online sites would be a good idea.
Since college kids are often busy studying (he he), laundry sometimes takes a backseat. Sending a gift card for their favorite clothing store will not only let them know you are thinking of them, but will also help them to have enough clothes to get through finals week!
If this is your child's first time living away from home, being homesick is a very real possibility. So don't overlook personal photos and videos from home. They really help!
Funny cards or cartoons, as well as pictures of the family pet doing something cute are always welcome and can go a long way towards making it easier for your child to cope with being away from home for the first time.
There's nothing more annoying than printing out a paper for class only to discover that you're out of ink. This leaves you with 2 options: go and buy expensive ink cartridges you don't really have money for, or go the computer lab and hope you can get on a computer there.
Sending your child back-up printer cartridges for their own personal printer will be very appreciated.
#10  Personal letters
Just as important as all the other things mentioned on this list, letters from you and any other relatives can be a breath of fresh air for a college student who hasn't been home in awhile.
Personal letters can also be quite motivating during crunch times — like finals week.
If your college student likes to scrapbook, then these letters will likely be included in scrapbooks about their college days.
These are just the tip of the iceberg as far as ideas for what to put into your college student's care package.
Truthfully, just about anything you send will be appreciated. (I know this from personal experience.)
Receiving a box of goodies when you're away from home can also make a big difference in your morale and motivation to do well in school.
And if a holiday is right around the corner, don't forget to include at least one "themed" item especially for that holiday — like Halloween or Christmas.
Oh, and if your college student is living with other roommates, then you may want to send a little bit extra. That way, they can all share and enjoy. This is especially nice when roommates don't receive care packages from home much. Your generosity will be very much appreciated.
Best Times To Send Care Packages

Soon after each semester begins
Before final exams
After final exams
After winning an award (financial scholarship or educational award — like honor roll; dean's list)
Before a big game (for athletes)
After being selected for a fraternity/sorority or some other club
Before any holiday (especially if they aren't able to come home for the holidays)
More Fun Ideas For College Care Packages
My favorite things to write about are topics that have to do with pregnancy, weddings, saving money, living green, and life with dogs. When I'm not writing, I love to spend time with my husband, read, create 3D artwork and Native American beadwork.