---
This post may contain affiliate links. If you purchase through these links, we may earn a small commission at no additional cost to yourself.
---
I love babies. And I love it when mothers bring their babies to my door on Halloween night.
Yes, I know the parents eat the candy, but I have so much fun seeing the kids all dressed up that I often give them extra.
Let's face it, it isn't easy coming up with ideas for toddler Halloween costumes.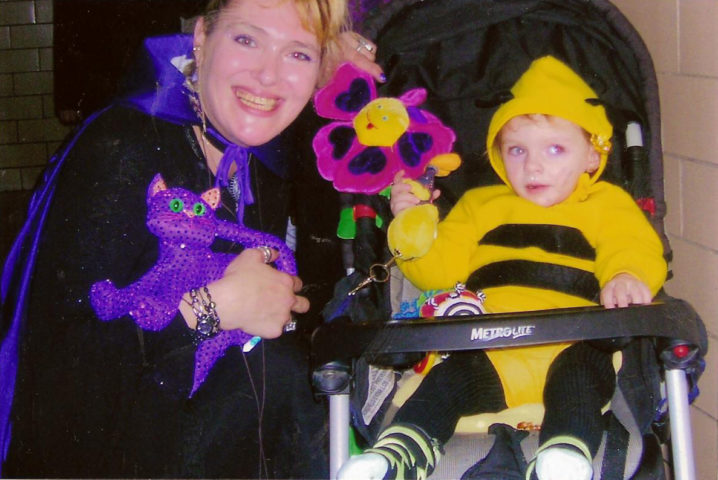 If you plan on taking your infant or toddler out this Halloween, don't spend money on a costume.
There are many great ideas for homemade costumes.
And the best part: they can each be made with little or no money.
At first, we had a hard time deciding on costumes for my grandsons.
Following are some of the baby and toddler Halloween costume ideas we came up with. They were a hit — and easy to make too!
#1 – Toddler Jailbird Costume
I know you don't want your son or daughter to be a "real" jailbird, but they won't remember this.
And an infant or toddler jailbird such an easy costume to make.
All you need is a one-piece pajama or jumpsuit with horizontal stripes.
This is how we dressed my oldest grandson when he was 7 months old.
Everyone thought it was a cute idea. The only time a jailbird is welcome in the neighborhood is on Halloween night!
You can get a toddler Jailbird costume online and get it in a couple days, if time is an issue.
#2 – Baby Ghost Costume
If you have an infant who will be dressing up this Halloween, consider turning the little one into a
baby ghost
.
All you need is a white bunting bag. Sew large googly eyes on the hood of the bunting bag and a small orange pompom for the nose.
This is how we dressed my youngest grandson when he went trick or treating with his brother at the age of 3-1/2 months. He was the hit of the neighborhood.
Here are instructions to make a baby ghost costume for a little girl.
Or, you could buy an infant Ghost costume and have it in a few days.
#3 – Baby Cow Costume
Toddlers love to dress in
animal Halloween costumes
, and a
cow costume
is simple to make. I am not a sewer and if I can make this costume, anyone can.
Buy a white sweatsuit and hat. Cut Holstein cow spots out of black felt. Use a needle and thread to baste them to the sweatsuit. (Basting makes it simple to remove the spots after Halloween.) Once this is done, cut 2 triangles out of black or white felt for the ears, and sew them onto the hat.
Now it's time to make the tail. Use black yard strands between 12″ and 15″ in length. Braid them to within about 3″ of the end and then let the strands hang down to resemble a cow's tail. Sew the tail to the back of the sweatsuit pants.
When you dress your toddler in his cow costume on Halloween night, put one black and one white sock on him. If your child has both black and white shoes, place them on the foot with the opposite colored sock.
This is the costume I made for my oldest grandson for his second Halloween. He loved it so much that he wore it around the house for weeks.
No time to make it? You find a toddler Cow costume online instead and have it delivered to your door!

#4 – Baby Pirate Costume
Every kid wants to be a pirate — whether a girl or a boy — and this
pirate Halloween costume
is as easy as pie to make.
Dress your child in black sweatsuit pants, a white shirt and red socks.
On Halloween night, right before heading out the door, tie a red bandana around your child's head. Use a little makeup to create a mustache, and your child is ready to go out trick-or-treating.
When my grandsons wore this costume, we instructed them to say, "Ahoy Matey! Trick or Treat!"
TIP: Do not use earrings or other props on Halloween costumes for infants and toddlers. These objects are a choking hazard.
Want your child's Pirate costume to look a bit more authentic? There are lots of cute infant Pirate costumes online as well.
Now that you have a few ideas on how to dress your infant or toddler for Halloween, it's time to use your imagination and have fun!
More DIY Halloween Costumes For Kids
I love writing about almost anything, especially my life experiences. Other favorite things to write are how-tos, household hints, nature and fishing articles, among others.