This post may contain affiliate links. If you buy thru these links, we may earn a commission at no additional cost to you.
---
Thanks to today's modern technology, Santa Claus — and his reindeer — are easier to get in touch with than ever before!
(Yep, Santa has gone high tech!)
Following are some fun ways to communicate with Santa, plus lots of great Santa projects that parents and kids can enjoy together this Christmas.

Connect With Santa Claus Online
Here some really fun ways that your child can communicate with Santa Claus:
Get Letters From Santa… Or Write To Him Yourself
Here's another fun idea: Letters from Santa sent directly to kids!
In addition to your child receiving something that's actually from Santa Claus, this is also a great way for parents to explain why Santa left the items he did under the Christmas tree.
There are a number of Santa-related places that provide this service:
And don't forget to have your child write a letter to Santa this year. That way you — and Santa — will know exactly what your child is wishing for!
Here are some helpful tools:
The U.S. Postal Service has a really neat program where they adopt children's letters and send replies.
And finally — tell the kids — NORAD tracks Santa Claus on Christmas Eve!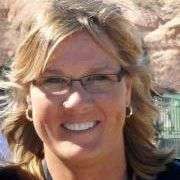 If there is ONE thing I like… it's C H A N G E! The four seasons and major holidays are my favorite times of the year to recharge — and redecorate. I mostly like to share frugal DIY ideas for seasonal home decorating and party planning (for both, indoors and outside). Because who doesn't enjoy entertaining at home?! But even if you don't host many parties, I think you'll appreciate my DIY hacks and clever ways to decorate your house for the major holidays including Halloween, Thanksgiving, Christmas. Because those are the times when people tend to have the most visitors and overnight houseguests.