---
We write about products and services that we use. This page may contain affiliate links for which we receive a commission.
Now that I'm working from home, I'm watching more TV than usual.
Actually, it's just on in the background, and I'm computing more than usual. But still.
This means I watch a lot more local news, CNN, HGTV, Ellen, and yes, even Oprah and The View (…I know, shame on me).
But I have to admit that sometimes I'm thankful that I was able to catch certain things on TV that most people probably haven't seen!
Like these really cool gift ideas…
Hottest Gifts That Everyone Is Talking About
#1 A brilliant idea shared by Elisabeth Hasselbeck from The View: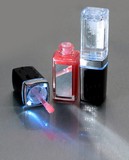 Individual lip gloss and mascara that each "light up" and have a built-in mirror on the side — great for applying touch-ups at the club, in your car, and on the go. The best part is how they light up so you can see what you're doing. (BONUS: They're so bright, you can use them to see inside your purse and even read in the dark!)
This isn't the first great idea I've gotten from little miss Elisabeth…
#2 From Kelly Sutton, a local news reporter:

The Bumbo Baby Sitter! This is supposed to be so soft and cushy (think: self-healing foam pillows and bed mattresses) that your baby will want to sit in here for long periods of time. A smart option for those times when you need a few minutes to load the dishwasher, answer the phone, run a load of laundry, etc. It's a great way to keep your child content… and in one place.
#3 From Coreen Holden of the 2 Cute Boutique (as featured on More At Mid-Day):

My favorite product in the line-up was the personalized monogram clogs. You pick the soles, the suede, the trim, the color, and the monogram (if desired). One thing's for sure… no one will have shoes like yours!
#4 I've actually seen several people talking about these lately:

Postage stamps made from photographs.
And… I know several people who have already received their personalized photo stamps… and they love 'em! They're a great gift because they're SO personal… and fun. I've seen them with photos featuring pets, kids, vacations, weddings, even cars! Whatever floats your boat — or your friend's boat — will look great on a postage stamp.
#5 From Inc. Magazine:
A personal scanner called the NeatReceipts Scanner.
Now you can rid you life of all that paper! Use it to scan things directly into your computer like: taxes, business cards, store receipts, warranties, even full-page documents & personal records. The best part is that it works with MS Outlook and spreadsheet & accounting software such as QuickBooks and TurboTax and it can save as a .PDF file.
More Fun Gift Ideas
The Treehugger's Green Gift Guide
10 Unique Gift Ideas I Found On HGTV
The Best Online Shopping Sites For Last-Minute Gifts
More Great Gift Ideas
Top 10 Personal Survival Kits (& Why Everyone Should Have One)
If there is ONE thing I like… it's C H A N G E! The four seasons and major holidays are my favorite times of the year to recharge — and redecorate. I mostly like to share frugal DIY ideas for seasonal home decorating and party planning (for both, indoors and outside). Because who doesn't enjoy entertaining at home?! But even if you don't host many parties, I think you'll appreciate my DIY hacks and clever ways to decorate your house for the major holidays including Halloween, Thanksgiving, Christmas. Because those are the times when people tend to have the most visitors and overnight houseguests.