This post may contain affiliate links. If you buy thru these links, we may earn a commission at no additional cost to you.
---
Today, everyone needs to be conscious of the environment and Halloween is no exception.
When choosing costumes, decorating your yard and giving out treats, I encourage you to make it a green Halloween this year!
Here are some fun and easy ways to be green during Halloween…
#1 Give Treasures vs Candy

When you head down the aisles of your local store in search of Halloween treats, think treasures instead of candy.

Head to the aisles where small eco-friendly treats are available. Stay away from products that can't be recycled, such as plastic toys.
Trinkets and treasures delight young children, and they will be happy to receive fun things like polished rocks, seashells, stickers, temporary tattoos, charms, glass beads that are lead free, small wooden toys or figurines, as well as hair accessories coloring sheets, non-toxic crayons or even children's organic tea. For older kids, you might want to consider tech treats!
If you feel you must give out candies and treats instead of treasures, consider small packages of pumpkin seeds, organic candy, organic cookies, dried fruit, popcorn balls, cheese or honey sticks, raisins or dried apple slices.
Never give out nuts or peanut butter treats because some children suffer from nut allergies.
#3 Buy Or Make Green Halloween Costumes
When choosing Halloween costumes, stay away from those that contain toxic dyes or products with a petroleum base. Look for Halloween costumes that are made of 100% cotton. These can be used year after year or can be made into quilt blocks or rags when they wear out. If they absolutely have to be thrown away, they break down quickly in the landfill.
You can also make Halloween costumes out of old clothing, cardboard, paper, and other biodegradable materials. Decorate costumes with felt, silk, paper, non-toxic paint or crayon.
Instead of wearing a mask, use non-toxic face paint, hair dye or face pencils.
#4 Consider Eco-Friendly Halloween Lighting
Traditionally, people were used to lighting up their yards with old Halloween decorations that were made of plastic and that use a lot of power. Today, LED Halloween lights and decorations can be used to conserve energy. LED lights last 133 times longer than regular Halloween lights and they come in all shapes and colors.
If you prefer, use candles or soy candle torches to light the path to your door. Flickering candles will give your yard an eerie look that will delight the visiting ghosts and goblins.
Solar Halloween lighting is a great choice. It doesn't use any energy and there are a wide variety of solar Halloween lights available on these days.
# 5 Use All-Natural Halloween Decorations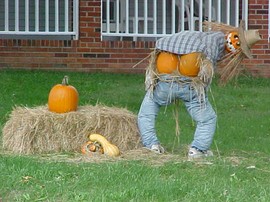 For other outdoor decor, try to use items from nature.
Acorns, bales of straw, cornstalks, gourds, flowers, leaves and pumpkins can bring a hint of Halloween into your yard — and it's all biodegradable.
Make a scarecrow couple by stuffing old clothes with straw or newspaper. Tie together with twine attached to the belt loops and use as suspenders. Add boots, a straw hat and cotton or leather gloves. This type of scarecrow is fully biodegradable, and can be used year after year.
Oh, and don't forget to re-use the pumpkin seeds from inside the pumpkins you carve!
More Fun Green Halloween Ideas
I love writing about almost anything, especially my life experiences. Other favorite things to write are how-tos, household hints, nature and fishing articles, among others.