This post may contain affiliate links. If you buy thru these links, we may earn a commission at no additional cost to you.
---
Not a fan of football?
As much as I hate to admit it, that's me.
And as hard as people have tried through the years to convince me that watching football (in person or on TV) is a fun thing to do, I just don't buy it.
I've tried front & center in the stands.
I've been up close & personal on the field.
I've enjoyed the luxury of skyboxes.
I've had tickets to some of the biggest games that should have meant something to me.
Still, for some reason, I tend to gravitate toward the fun party games and football party recipes instead of the actual game itself.
Poor Jim, he had no idea what he was marrying into (8 years ago). Unfortunately, I think he pays the price for his non-football loving wife being in charge of the TV remote control, too. That's probably why he's usually in the running for "the last place award" in the football pool each year. (Trust me, there's a much worse name than that for such a prestigious award!)
Anyhoo, at least I have attempted to learn more about the game of football.
Here are some of the best links I've found for the non-football fans who want to learn the basics of football… fast!
The Basics Of Football
A woman's perspective of football
The basics of American football
Understanding football downs and distances
Football field dimensions & markings
The methods of scoring in football
Football referee signals illustrations & explanations
Football 101: A fan's guide to the game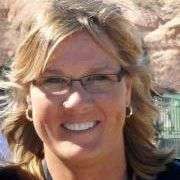 If there is ONE thing I like… it's C H A N G E! The four seasons and major holidays are my favorite times of the year to recharge — and redecorate. I mostly like to share frugal DIY ideas for seasonal home decorating and party planning (for both, indoors and outside). Because who doesn't enjoy entertaining at home?! But even if you don't host many parties, I think you'll appreciate my DIY hacks and clever ways to decorate your house for the major holidays including Halloween, Thanksgiving, Christmas. Because those are the times when people tend to have the most visitors and overnight houseguests.