This post may contain affiliate links. If you buy thru these links, we may earn a commission at no additional cost to you.
---
Did you know you can order personalized M&Ms online?
Yep, now you can place your own custom messages on real milk chocolate M&Ms candies in the colors of your choice. This can even include a picture (of the wedding couple, a business logo, your favorite sports team, or even your dog.)
By ordering bags of personalized M&M's for gifts or parties, you can share your own sentiment or special occasion with others!
Here's a list of all the special occasions when having your own custom M&Ms would come in handy:
Click the links to see actual examples
Corporate Party
Pregnancy Announcement
Engagement
Superbowl Party
Mother's Day
Father's Day
St. Patrick's Day Party
New Job / Promotion
New House
Anniversary
School Reunion
Retirement Party
Thanksgiving
…you get the idea!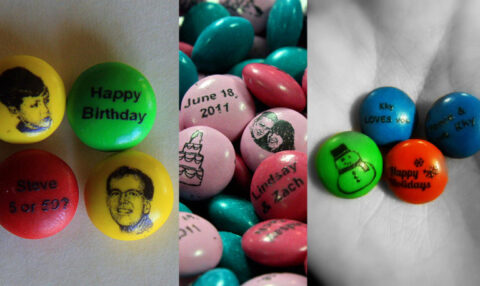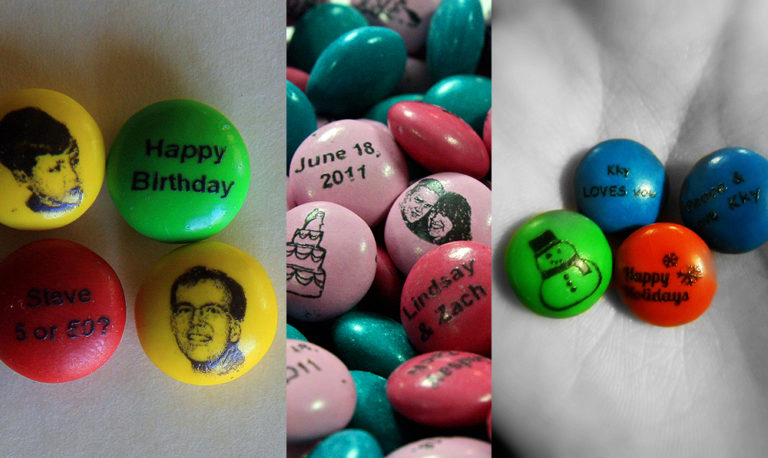 I'm pretty sure that wedding M&Ms and M&Ms customized with your business logo are some of the most popular.
How To Order Personalized M&Ms
To order M&M's candy with your very own custom-printed messages on them, it's a simple 3-step process:
#1. Choose your colors — up to 2 different colors per order if you're just personalizing with words; or 3 different colors if you're personalizing with images & words or logos.
HINT: You can personalize 20 of their 25 different colored M&Ms. The other 5 colors — black, dark blue, teal, maroon and brown — can be mixed in with your order, but not personalized.
#2. Compose your message — up to 2 lines, using a maximum of 9 characters per line (including spaces).
HINT: You can personalize your M&Ms with up to 4 different messages per order (text only)
#3. Indicate your quantity — a 7 oz. bag is $11.99 with a 3 bag minimum. Personalized M&M's are also available in smaller party favor bags and in larger bulk size packages.
HINT: 1.5 oz of M&Ms equals approximately 50 M&Ms.
In case you're wondering… this is what a 7 oz. bag looks like: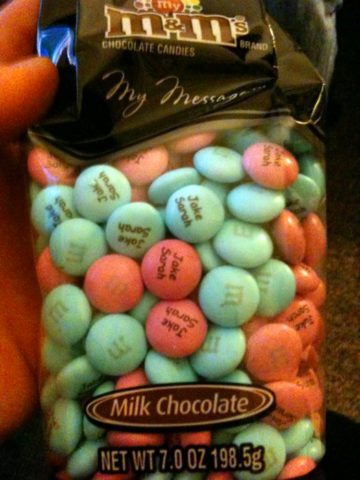 Order personalized M&Ms for your own special occasion.
Get the promo code for one free bag of M&Ms (to be used when you place an order).
Questions about ordering personalized M&Ms? Check out the official personalized M&Ms FAQ.
Other Personalized Candies, Cookies & Candy Tins
Here are some other candies, sweet treats & tins that you can personalize for gifts, special occasions, or wedding favors: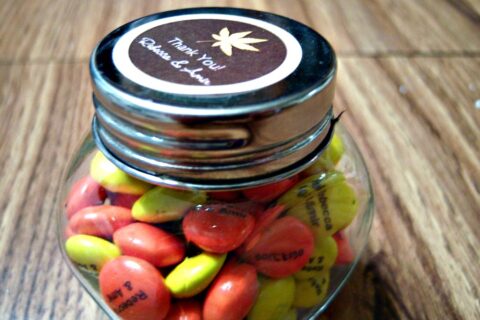 …like these candy tins that make great wedding favors!

…like these chocolate biscotti personalized favors!
…like these love notes icing cookies!
…like these chocolate-covered almonds available in fun colors or white chocolate!
Whatever you decide to personalize and give away to your party guests who celebrate a special occasion with you… these rustic party favor bags are the perfect packaging!
I love the see-thru area on the front of the bags. And they can be customized with your own personal message, as well.
Like this post? Save it to read again later… or share with others on Pinterest!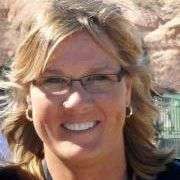 If there is ONE thing I like… it's C H A N G E! The four seasons and major holidays are my favorite times of the year to recharge — and redecorate. I mostly like to share frugal DIY ideas for seasonal home decorating and party planning (for both, indoors and outside). Because who doesn't enjoy entertaining at home?! But even if you don't host many parties, I think you'll appreciate my DIY hacks and clever ways to decorate your house for the major holidays including Halloween, Thanksgiving, Christmas. Because those are the times when people tend to have the most visitors and overnight houseguests.