This post may contain affiliate links. If you buy thru these links, we may earn a commission at no additional cost to you.
---
As you know, Superbowl is coming up. Anyone who is a sports fan is going to be huddled in front of the big screen watching it.
Whether you're a football fan or you love someone who is, throwing a Super Bowl party is one way to make watching the Superbowl (and Superbowl commercials) a whole lot more fun!
And if you work it right, you won't have to cook much — if at all! You can serve foods that don't require much preparation, or ask your guests to each bring an appetizer. That way, you won't be slaving over a stove all day trying to feed a crowd.
Here are my 9 best tips for throwing super popular Superbowl parties:
Some good choices for food that's easy to prepare (or buy pre-made ahead of time): pizza, chicken wings, and meatballs. Couple one or two of those with chips, popcorn, soda, and beer — along with a fun dessert like football cupcakes — and your party is sure to be a winner in the food department!
Are you cooking or catering? Starting from scratch or gathering pre-made goodies from the market? Calling in a bunch of pizzas, pot-lucking it or sticking to simple snacks? … If you are catering or ordering in, call NOW and make sure that your order can be accommodated in time — it's rarely too early to get the order in and if you think that a particular place has perfect Superbowl-style snacks, so do lots of other people. Get in there and get it set. If you are cooking or pulling together pre-made stuff from a market, make your shopping list.

Source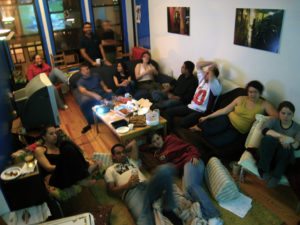 Not everyone at your party will be a football fan. Heck, maybe your wife (or husband) isn't even a fan of the game, yet they're still up for hosting a Superbowl party at your house this year. Trust me, they would feel a whole lot more comfortable if there are others they can relate to about non-football stuff at the party as well. Also, having only one girl or only one guy at the party isn't comfortable for anyone — especially if they're not a huge sports fan. So to ensure that everyone has a great time at your party, make sure to invite more than one 'circle of friends'. And have at least a few activities that are fun for non-football fans.
Make sure that all your guests have fun regardless of who wins. A great way to get everyone pumped is to suggest that everyone to wear the team colors or jersey of the team they want to win. This will create a competitive, but friendly atmosphere for your party.

Source
If you plan ahead of time, then you won't have to leave and buy another case of beer or another package of hotdogs — because you ran out. Instead, make a list of how many guests are coming, what you'll need, and a timeline, so you can make sure that everything gets done. And that way, no one will miss out on any key moments during the game… or the Super Bowl commercials!
Clean, clean, clean and clean some more. If there is a lot (too much!) to do, stay calm and focus on a few key spots: the room where you'll watch the game, the entryway, the kitchen and the bathroom … Don't forget to check on stored glasses, plates or utensils that you might need to bring out to see if anything needs a fresh wash.

Source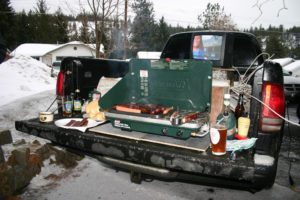 For example, you'll want a place where those who aren't so interested in the game can talk and watch something else on TV, or just sit around and visit and relax. Not everyone is going to be a football fan. Eating and talking will become the main activities for some of your party guests — it's only natural. Even those who are big football fans will likely want to chat before, during, or after the game some.
Your guests will want to sit in front of the television and near tables with food, so they can snack while watching the game. It's been my experience that the rabid football fans take the seats up front and center, so provide plenty of seating on the fringe with extra tables nearby for snacks. Throw pillows on the floor and grab chairs from the dining room if extra seating is needed.

Source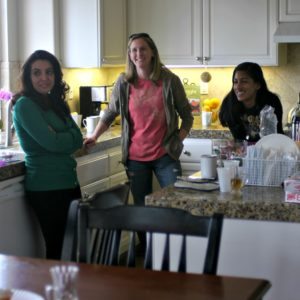 If you have a friend who's a great cook, and maybe another friend who's crafty and creative, ask for their help with this year's Superbowl party. That will take some of the pressure off you, and it will probably make the party itself a whole lot more fun! One thing's for sure, the pre-party prep work itself will be more fun with a couple of extra hands pitching in to help.
Invite a few close friends to come over early and help with prep work. I like to refer to this as the "pregame show." It's usually just an excuse to hang out with a few friends before more people arrive, and those close friends are usually happy to do whatever is needed to help set up, like move tables and chairs. Usually, everything ends up ready to go well in advance of the game, so it provides a great opportunity to just hang out and chill with friends before the party really starts.

Source
One TV for a really large group isn't going to work well — because it will be difficult for everyone to see. If you don't want to rent a big screen TV, then bring out a few of your TVs from other rooms in the house — to make it easier for everyone to watch the game. Don't worry about having the biggest or best TVs for your party. You can even put a little black & white in the kitchen and bathroom so no one misses anything when they're loading up on food!
Find out if the price includes delivery and setup. Many rental companies take this chore out of your hands, especially with a high ticket item that can be easily damaged during transport. Some may offer it either way with a reduced price if you pick it up yourself, however, not lugging around a heavy television and the added stress of worrying about breaking it, might make the extra money you spend to have it delivered and picked up well worth it.

Source
This will make everyone feel as though they are at the game, but without all the standing in line and waiting that goes on in a stadium. You don't have to be fancy about your Superbowl party decorations — just put up some streamers in the teams' colors along with some simple football decorations, and you'll be all set! Party stores and craft stores will have lots of affordable football and Superbowl decorations to choose from. Or, try your hand at some simple DIY Superbowl decorations.
Stop by your home improvement center and pick up as many feet of indoor/outdoor carpeting as you like to roll out the "green" carpet for your guests. A little white paint goes a long way, as you can mark off the yards to your front door.

Source
The last thing anyone wants is for someone who's been drinking at your party to get in a serious accident — or get a DUI. Trust me, you don't want anyone to remember your party for those reasons. The police are always out in force on the day of the Super Bowl, and they're going to be looking for drunk drivers who are leaving parties and bars. By having designated drivers at your party, you'll be dodging a huge bullet! It's important not to allow anyone who has been drinking to drive. These days, the law is such that even if someone isn't over the legal limit and a cop stops you and smells alcohol on your breath and thinks your driving is affected, you can still be arrested for DUI. Instead of having designated drivers on hand, you could also call cabs or Uber drivers.
Remember, you can be held liable and prosecuted if someone you served ends up in a drunk-driving crash. Make sure all of your guests designate their sober drivers in advance, or help arrange alternate transportation. Serve lots of food and include lots of non-alcoholic beverages at the party. Stop serving alcohol at the end of the third quarter of the game and begin serving coffee and dessert. Keep the numbers for local cab companies handy, and take the keys away from anyone who has had too much to drink.

Source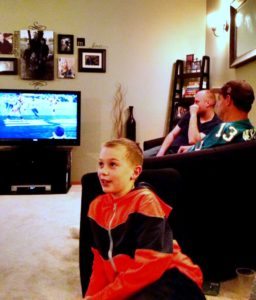 Chances are, some of your friends have kids — even if you don't. Being able to bring their children with them can be a big plus. It might even determine whether they come to your party or not. By setting up a room especially for the kids with games, toys, and treats, you'll be able to keep the little ones happy and occupied while the adults watch the game. Sometimes kids want to watch football on TV too — so be prepared to have some kids of all ages in the TV room for at least some of the time. Having the extra room just for the kids gives those not interested in the game a fun place to retreat to if and when they want to.
Set up a kids' room in the back of the house that's stocked with treats, games, a TV, and DVDs. You can also set up a puzzle on a card table. This way if some people at your party do not want to watch the game, they will have some place to hang out. This is a good place for people to sit and have something to do while watching the game, if they are not totally into the game.

Source
More Great Ideas For Superbowl Parties
In addition to the links I've included above, here are some other resources to help you plan a Superbowl party that ROCKS:
Like this post? Save it to read again later… or share with others on Pinterest!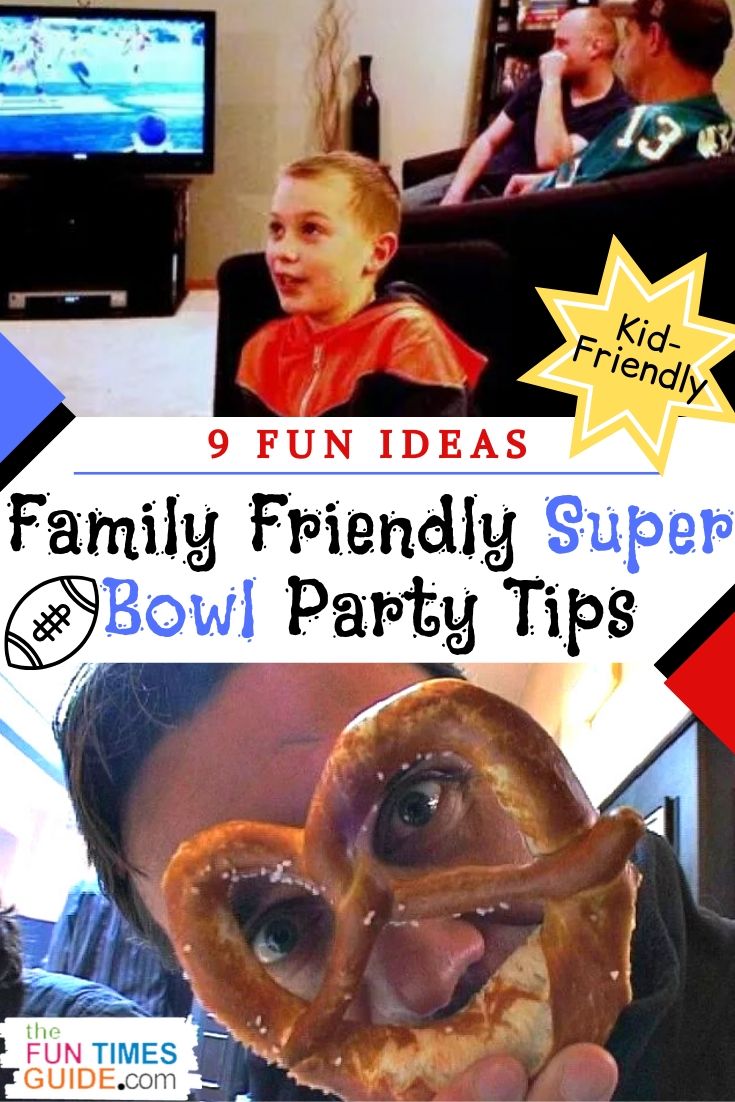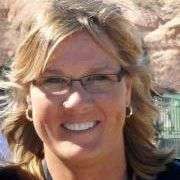 If there is ONE thing I like… it's C H A N G E! The four seasons and major holidays are my favorite times of the year to recharge — and redecorate. I mostly like to share frugal DIY ideas for seasonal home decorating and party planning (for both, indoors and outside). Because who doesn't enjoy entertaining at home?! But even if you don't host many parties, I think you'll appreciate my DIY hacks and clever ways to decorate your house for the major holidays including Halloween, Thanksgiving, Christmas. Because those are the times when people tend to have the most visitors and overnight houseguests.