This post may contain affiliate links. If you buy thru these links, we may earn a commission at no additional cost to you.
---
Are you the victim of a fashion faux pas?
Do you have more holiday sweaters than you can count? Worse yet, has your collection grown so big simply because you can't bring yourself to toss all the old sweaters out?… like from the 80's???
If so, then listen up… You're in luck. This is the year of "the ugly sweater"!
Recalling the gaudy styles of the late '80s and early '90s, holiday-sweater parties bring out the kitschiness of one-time high style. Source
How To Take Advantage Of An Ugly Sweater Collection
If your collection of Christmas sweaters has grown so large you just don't know what to do with them all, consider this:
You could win big this holiday season!
Win?
Well, you might just win the biggest smiles ever from your friends and loved ones, but you could also win big prizes.
How?
By attending an ugly sweater bar crawl. Or, by attending an ugly sweater party. (It's far more popular than you might think!)
Then again, you could throw your own ugly sweater party…
How To Throw An Ugly Sweater Party
According to Hellish Holidays, there are in fact "rules" for throwing an Ugly Sweater Party:
1. Think ironic.
2. Think thrift shop.
3. Think with a twist.
4. Think regional.
5. Think unsexy.
6. Think prizes.
…more details can be found in the The Ugly Christmas Sweater Party Guide.
Oh, and what should you do if you receive an ugly sweater as a gift this year? Well, my advice to you is to promptly regift it!
My Favorite Ugly Sweaters
Ah hem… these are from the web, not from my closet!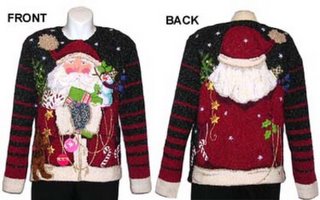 Oh, and these, too. WARNING: View at your own risk! [Thanks, Lettuce.]
Have Fun, Play Along…
First, check out these Christmas sweater tips.
Then, make your own ugly sweater online! (It's boatloads of FUN… and you can even send your finished product onto friends.)
 
Listen to Bud Light's Real Men of Genius "Mr. Multi-Colored Sweater Wearer":
https://holidays.thefuntimesguide.com/files/Bud_Light_Real_Men_of_Genius_Mr_Multi_Colored_Sweater_Wearer.mp3

UPDATE #1: Check out some new Ugly Sweater candidates. You can actually buy these online.
UPDATE #2: And don't miss these ugly sweater ideas for men!
 UPDATE #3: Finally!… Ugly sweaters on Amazon now.

If there is ONE thing I like… it's C H A N G E! The four seasons and major holidays are my favorite times of the year to recharge — and redecorate. I mostly like to share frugal DIY ideas for seasonal home decorating and party planning (for both, indoors and outside). Because who doesn't enjoy entertaining at home?! But even if you don't host many parties, I think you'll appreciate my DIY hacks and clever ways to decorate your house for the major holidays including Halloween, Thanksgiving, Christmas. Because those are the times when people tend to have the most visitors and overnight houseguests.