This post may contain affiliate links. If you buy thru these links, we may earn a commission at no additional cost to you.
---
The following DIY Halloween decorations are really inexpensive to make yourself.
The best part about these craft ideas is that they utilize everyday things that you have around the house and they can all be un-done — like this Halloween wreath made from Dollar Store bath scrubbers (instructions here).
So you aren't damaging any of your favorite things when you turn them into fun Halloween decorations… temporarily.
Yep, these are all reusable items that can be un-done and re-done for virtually any holiday.
They're not permanent.
As the representative from Parents magazine says in the video below, you can basically go around your house and turn just about anything into a pumpkin. It's amazing all of the 'round' things that you can find inside your home to decorate with!
Instructions for each of these Halloween craft ideas are provided in the following video:
Halloween Crafts | Parents
More Fun Halloween Decorations
Okay, so you don't want to make your own Halloween decorations this year?…
Here's a great selection of Halloween decorations you can buy. The best part: you can have them the next day!
Thinking of decorating the outside of your house?…
Check out these unique Halloween yard decorations — some you can buy, some you can make yourself.
Need something fast?…
Here are lots of Halloween yard decorations you can buy and have shipped the next day.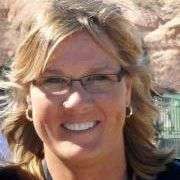 If there is ONE thing I like… it's C H A N G E! The four seasons and major holidays are my favorite times of the year to recharge — and redecorate. I mostly like to share frugal DIY ideas for seasonal home decorating and party planning (for both, indoors and outside). Because who doesn't enjoy entertaining at home?! But even if you don't host many parties, I think you'll appreciate my DIY hacks and clever ways to decorate your house for the major holidays including Halloween, Thanksgiving, Christmas. Because those are the times when people tend to have the most visitors and overnight houseguests.