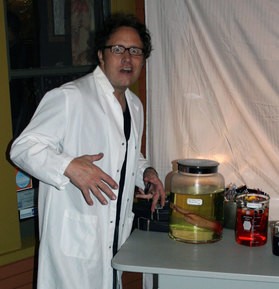 Following are step-by-step instructions for making some of the most gruesome looking Halloween foods that I've ever seen.
(And I've seen a lot of scary Halloween foods!)
The best part…
As gross as these foods look, they're all 100% edible!
Gross Halloween Recipes
First, here are a few of my favorite gross Halloween recipes to try:
This next video shows how to make a Bleeding Zombie Brain using strawberry jello, cooking spray, grenadine, corn syrup, red & green food coloring, unflavored gelatin, evaporated milk, and water:
This next gross Halloween recipe shows how to make Fake Intestines using sausage casing and spaghetti:
Semi-Spooky Halloween Recipes
Next up are some Halloween recipes that aren't quite as gross, but they're still a bit creepy (…and FUN!) nonetheless.
In this video, see how to make Eyeball Bites using fresh vegetables (like cucumbers, carrots, and cherry tomatoes), cream cheese, and black olives:
This next video shows how to make Severed Witches Fingers using parmesan cheese, refrigerated breadstick dough, red pepper, green pepper, and some marinara sauce:
And finally, see how to make a Spider Dip Bowl using loaves of frozen bread dough:
More Creepy Halloween Recipes
Vampire Blood Martini Glasses

Kitty Litter Cake (Video)
Rib Cage Cake With Heart, Lungs, Liver & Kidneys
Dried Apple Shrunken Heads
Earthworm Cake With Dirt (Video)
Apple Monster Mouths, Boogers-On-A-Stick & Scary Spider Cookies

Vampire Cupcakes

Edible Halloween Cockroaches (Video)
Day Old Bath Water Recipe

Creepy Pastry Intestines
Hand Burger
Severed Fingers
Supplies For Making Gross Halloween Foods