This post may contain affiliate links. If you buy thru these links, we may earn a commission at no additional cost to you.
---
Looking for some sweet treats that you can make with your kids for Christmas?
Or maybe you're just looking for unique ideas a fun holiday party?
Here are 5 edible Christmas tree desserts that are easy to make…
#1 – Edible Christmas Tree Cones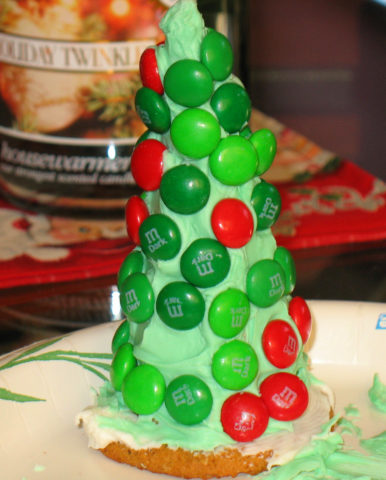 Take a waffle cone and turn it upside down.
Help the kids "paint" their cones with green icing.
Let the kids decorate their green Christmas trees with "ornaments" — candies like M&M's, Skittles, sprinkles, and more.
Finally, place a cupcake or a cookie that's slightly larger than the diameter of the cone underneath, to give it a stable platform to rest on.
Waalah… you have a kid-size Christmas tree decorated to satisfy your sweet tooth!
Here's a step-by-step tutorial from My Life According To Pinterest for edible Christmas tree cones.
And a helpful video:
#2 – Giant Christmas Tree Cookie
Using any sugar cookie mix, prepare as directed on the package.
Instead of dropping bite-sized mounds onto a cookie sheet, press all of the batter firmly into a cooking pan with edges.
Bake until lightly brown, then use a knife to cut into a Christmas tree shape.
Decorate with green frosting and candies.
Here's a step-by-step tutorial from Betty Crocker for a giant Christmas tree cookie.
And a helpful video:
#3 – Pretzel Christmas Trees
Put some green candy melts into a sandwich bag and once they've turned to liquid, snip one corner of the bag.
With a pretzel rod on waxed paper, squeeze the candy melt into the shape of a Christmas tree.
Sprinkle miniature-sized candies onto the candy melt before it hardens.
Allow to cool… then enjoy!
Here's a step-by-step tutorial from Sweet Rose Studio for pretzel Christmas trees.
And a helpful video:
#4 – Rice Krispies Christmas Trees
Mix ingredients until rice krispies are green and maleable.
Form into Christmas tree shape.
Decorate trees with icing, sprinkles, and small candies.
Finally, place the Christmas tree atop a Reese's peanut butter cup.
Here's a step-by-step tutorial from Simplee Thrifty for rice krispie Christmas trees with an update from yoyomax12.
And a helpful video:
#5 – Peanut Butter Cup Christmas Trees
Layer from bottom to top, upside down Reese's peanut butter cups: 1 mini, then 1 regular, then 1 mini
Top with 1 Hershey's chocolate kiss (right side up).
Attach layers to one another using melted chocolate (either white chocolate, or use green food coloring)
Finally, drop lots of lightweight sprinkles into the icing before it hardens.
Here's a step-by-step tutorial from Teacher-Chef for Peanut Butter Cup Christmas Trees and an update from Sweet Simple Stuff.
And a helpful video.
More Edible Christmas Tree Dessert Ideas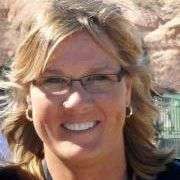 If there is ONE thing I like… it's C H A N G E! The four seasons and major holidays are my favorite times of the year to recharge — and redecorate. I mostly like to share frugal DIY ideas for seasonal home decorating and party planning (for both, indoors and outside). Because who doesn't enjoy entertaining at home?! But even if you don't host many parties, I think you'll appreciate my DIY hacks and clever ways to decorate your house for the major holidays including Halloween, Thanksgiving, Christmas. Because those are the times when people tend to have the most visitors and overnight houseguests.