This post may contain affiliate links. If you buy thru these links, we may earn a commission at no additional cost to you.
---
If you've been invited to Thanksgiving dinner, be sure to take along a Thanksgiving hostess gift — even if it's just something small. Cooking Thanksgiving dinner for a large number of guests is hard work and it's a nice gesture to express your appreciation.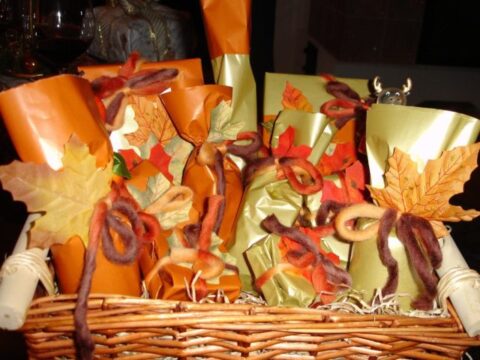 This actually applies any time of year — whenever someone goes to a lot of trouble to put together a big dinner or party.
You don't have to buy a fancy gift basket. There are many affordable hostess gifts that you can make yourself — including food gift baskets!
And the best part? You can personalize your gift specifically for her tastes and personality! For example, does she have a chocolate or cranberry craving? Maybe she loves displaying seasonal decor. Does she enjoy serving baked goods to her family?
Here are some food gift baskets that you can make and your hostess will love…
Coffee and Tea Basket
If your hostess enjoys flavored coffee or tea, make her a personalized gift bag.
What you need:
Gift bag, size of your choice
Thank You greeting card
Colored tissue paper to match the gift bag
Hole punch
Ribbon of coordinating color
Scissors
Autumn leaf garland
Mug or cup and saucer
Flavored coffee or tea
Coffee or biscuit candy bar
How to do it:
Wrap mug or cup and saucer in colored tissue.
Pinch center of tissue paper sheets and place in the gift bag, creating a nest. When you do this, the ends will come over the top of the gift bag, creating a nice showing.
Add wrapped mug or tea cup and saucer to the nest.
Add flavored coffee or tea.
Add candy bar.
Sign Thank You card and insert in envelope.
Using hole punch, make a hole in the corner of the envelope, being certain not to damage the card.
Thread a piece of 1/4-inch ribbon through the hole and tie the card to the handle of the gift bag.
Curl ends of ribbon with scissors.
Cut a length of autumn leaf garland, and wind it around the handles of the gift bag.
TIP: Scented candles, soaps, and bath items can replace mug, cup and saucer and flavored coffee and tea to create a bath gift bag.
Similar Ideas:
30 Ideas For A Coffee And Tea Gift Basket
Make A Coffee Lover's Gift Basket
How To Make Tea Gift Baskets For Tea Lovers
Bakery Gift Basket
For the hostess who loves baked goods and baking, this is the perfect hostess gift.
What you need:
Medium-sized basket with handle
Sizzle or confetti (can be picked up at craft and party stores. If you wish, shredded paper can be substituted)
Cranberry garland
Scissors
Colored cellophane
Thanksgiving or Thank You card
Autumn leaves
1/4-inch Autumn variegated ribbon
Homemade baked goods including brownies, cakes and muffins
Fresh apples
Package of flavored coffee, tea or hot chocolate (to enjoy with the baked goods)
Cranberry snacks or candy bars
How to do it:
Place sizzle or shredded paper in bottom of basket.
Add homemade baked goods.
Place apples around baked goods.
Place cranberry candy bars on end between apples and baked goods.
Add cookie dough jar.
Add package of flavored coffee or tea.
Wind cranberry garland around the handle of the basket.
Add autumn leaves.
Sign card, insert in envelop and add to basket.
Cut sheet of colored cellophane that is large enough to cover the basket.
Set basket in the center of the cellophane sheet and draw corners over the basket and handle.
Gather in any excess cellophane.
Tie with autumn variegated ribbon.
Curl ends of ribbon with scissors.
TIP: For a Cranberry Lover's Gift Basket, baked goods can be replaced with cranberry jams, jellies, cranberry candy bars, fruit bars and packages of dried cranberries.
Similar Ideas:
How To Assemble A Food Gift Basket
Other Hostess Gift Basket Ideas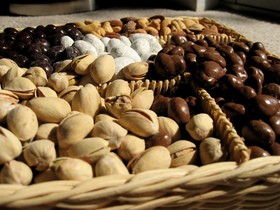 Martha Stewart's Top 35 Hostess Gift Ideas

Autumn Gatherings Cookbook

Decoupage Rose Votives

How to Make a Unique Gift Basket

 Last-Minute Hostess Gifts
 Unique Thanksgiving Gift Ideas

 Holiday Gift Baskets

 Thanksgiving Hostess Gift Ideas

 The Ultimate How-To Guide For Homemade Gift Baskets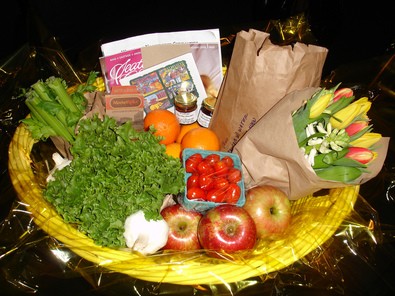 I love writing about almost anything, especially my life experiences. Other favorite things to write are how-tos, household hints, nature and fishing articles, among others.