This post may contain affiliate links. If you buy thru these links, we may earn a commission at no additional cost to you.
---
Thanksgiving is a time of celebration for families. It's when we all get together to give thanks for blessings received.
Kids love to be part of the holiday preparations, and kids love crafts — like this one: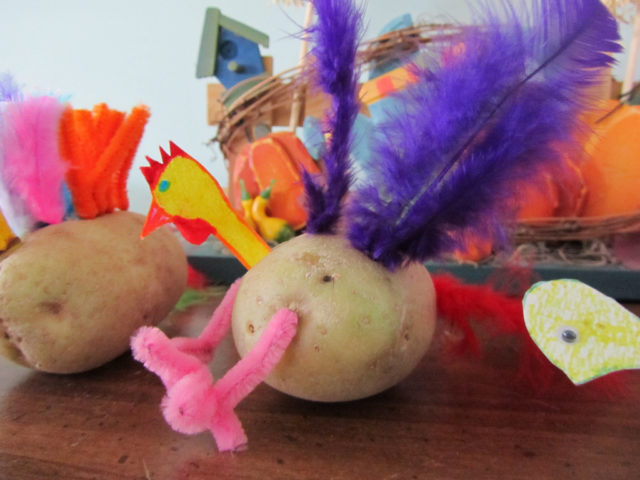 Here are some fun Thanksgiving crafts that you can make with your kids…
Pinecone Turkey
Take your children for a nature walk to collect pine cones. While they can also be purchased in craft stores, it's more fun to go out and find them yourself.
Place pinecones in a brown paper bag and microwave for one minute. This kills any insects or larvae that are living in the pine cones.
What you need:
Newspaper to cover your work area
Orange and white felt
1 styrofoam ball for each turkey
Autumn colored construction paper
White glue
Red pipe cleaner
Paintbrush
Brown paint
How to do it:
Draw feathers on Autumn-colored construction paper
Help your child cut them out
Glue feathers to large end of pinecone, creating a fan shape
Have child paint the styrofoam ball brown
Allow paint to dry thoroughly
Glue the styrofoam ball to the small end of a pinecone (push the pinecone into the styrofoam ball to ensure it is stable)
Cut turkey's eyes out of white felt
Cut turkey's beak out of orange felt
Glue beak and eyes in place
Use red pipe cleaners to form wattle
Glue wattle in place under turkey's beak
TIP:  Each child can decorate their place at the Thanksgiving table with their own pinecone turkey. If guests are bringing their children, make a pinecone turkey for each child.
Related:
Pinecone Turkey Craft Ideas
How To Cut Out Pinecone Turkey Feathers (video)
Another Pinecone Turkey Craft
Thanksgiving Tree Poster
Thanksgiving is a historical holiday. As we all know, the pilgrims celebrated the first Thanksgiving to give thanks for a bountiful harvest. It's great to share this history with kids and teach them to be thankful. With this project, you can help little ones create a Thanksgiving tree poster to show others what they are thankful for. This is a tradition in our family that has been a hit since I was young.
What you need:
12″ x 20″ piece of cardboard
Blue and green tempra paint
Paintbrush
Autumn-colored construction paper
Scissors
White glue
Colored pencils or markers
How to do it:
Have children paint the top half of the cardboard blue for the sky and the bottom half green for the grass
Allow to dry thoroughly
Draw leaf shapes on Autumn-colored construction paper
Help child cut them out
Once the painted cardboard is dry, have child draw a tree and branches with the colored pencils or markers
If desired, children can draw animals, flowers and a stream around the tree. (My oldest grandson was the first in our family to do this and he created his own little world.)
Have the child tell you what he is thankful for
Help him print each thing on one of the leaves
Let child glue the leaves on the branches of the tree
Hang the Thanksgiving tree poster in a place where it will be seen by your Thanksgiving guests
Related:
Make A Thanksgiving Tree
Tree of Thanks
A Child's Thanksgiving Tree
Autumn Leaf Placemats
When I was in elementary school, the teacher taught our class how to make Autumn leaf placemats. Back then, they were made with wax paper. Today, there are easier ways to make leaf placemats.
When my daughter was young, I taught her how to make an Autumn leaf placemat and then a few years ago, I did this with my grandsons. They still have their Autumn leaf placemats and use them each year for Thanksgiving dinner.
What you need:
1 sheet of black construction paper
Colored chalk
White glue
2 sheets of contact paper 9.5″ x 12″
How to do it:
Make the outline of a large leaf on the black construction paper with white glue
Allow to dry thoroughly
Have child use the colored chalk to color the inside of the leaf
If desired, use white chalk to color in the background around the leaf
Lay one sheet of contact paper on the table with the sticky side up
Center the sheet of black construction paper on top of the contact paper
Place the second sheet of contact paper sticky side down on top of the first piece. Your art will be in between the 2 sheets
Remove all air bubbles with the palm of your hand
TIP: Instead of using contact paper, you could take your child's Autumn leaf chalk drawing and have it laminated.
Related:
Make An Autumn Leaf Placemat
How To Make Fall Leaf Placemats
Another Autumn Leaf Placemat
I love writing about almost anything, especially my life experiences. Other favorite things to write are how-tos, household hints, nature and fishing articles, among others.