This post may contain affiliate links. If you buy thru these links, we may earn a commission at no additional cost to you.
---
Are you hosting Thanksgiving dinner this year?
Over the years, I've hosted holiday parties many times and I'd like to share a few stress-free tips that will make your Thanksgiving dinner a smashing success.
Following are my best tips regarding food prep and cooking for dinner hosts who will be preparing the big meal on Thanksgiving Day.
Enjoy!
Turkey Tips
You must properly cook your turkey.
Internal temperature must be at least 165 degrees Fahrenheit in order to be completely cooked.
Do not slow cook a turkey that is stuffed, because meat can become contaminated with bacteria which will cause botulism or food poisoning.
Stuffing Tips
Allow 3/4 cup of stuffing per person. If the turkey won't hold all the stuffing, place it in a casserole, add a dab of butter and bake for approximately 1 hour.
Stuffing must reach 165 degrees Fahrenheit in order to be safe to eat. Use a food thermometer to check it.
You can use whole wheat, French, sourdough, cornbread, white or sandwich bread for stuffing. Choose loaves that are firm. Fresh bread doesn't make good stuffing.
Cube the bread and allow it to dry overnight.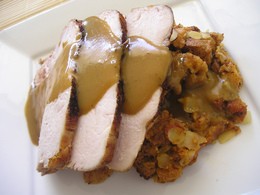 Prepare dry ingredients for the stuffing the night before and add seasoning. Do not add any liquid.
To add flavor to stuffing, replace some of the liquid with apricot or peach juice.
Never add nuts to stuffing without checking with guests. Some people are extremely allergic to nuts.
Gravy Tips
When preparing turkey gravy, use pan drippings from the turkey.
Use all-purpose flour or cornstarch for thickening. Or, if you prefer, turkey dressing can be made with roux.
Make 1/3 cup of gravy per person. If everyone loves gravy, then make extra — at least 1/2 cup per person.
Be sure the gravy is completely cooked. Boil for 4 minutes, stirring constantly.
If you won't be serving the gravy immediately, lay a piece of plastic wrap on the top to prevent a crust or film from forming.
Serve gravy in a fondue pot in order to keep it warm.
Mashed Potato Tips
Prepare mashed potatoes approximately 2 hours before the meal.
Place in a crock pot on low heat to keep them warm.
You can even serve directly out of the crockpot for easy clean up.
Dessert Tips
If serving cheesecake, prepare it the evening before and place it in the refrigerator overnight. Add fruit prior to serving.
Fruit pies can be baked a few days before Thanksgiving Day. Place them in your freezer once they're completely cooled. Remove from freezer to thaw early Thanksgiving morning.
If making pumpkin pie, use this easy method for cleaning and peeling the pumpkin:
Cut the pumpkin in half with a sharp knife.
Remove fiber and seeds.
Place pumpkin halves on a platter, cut side down.
Microwave until pumpkin is tender when knife is inserted.
Remove from microwave.
Use a spoon to remove pumpkin flesh from skin.
Cool thoroughly, and prepare pumpkin as usual.
Hopefully, these tips will make hosting Thanksgiving dinner much easier for you.
They are tips that I've gathered over a number of years, and I've found them to be valuable to my Thanksgiving dinner success.
Fun Thanksgiving Dinner Tips & Shortcuts
And now for some fun holiday shortcuts that will wow your guests (…even though they're so simple they make it seem like you're cheating).
 Bake a pie using a pre-made crust, then sprinkle fresh cinnamon on top of each slice to add that wow-factor.
 Use frozen dinner roles that you can buy in bulk & store well in the freezer. They'll look homemade when you add your own "filler" to the center of the rolls.
 Make simple appetizers by placing refrigerated biscuits into muffin tins, add white crabmeat, cheddar cheese, and fresh parsley. When cooked, they look like individual quiches.
 Put a dozen fresh cranberries in clear votive candle holders. Fill with tap water and add a clear votive floating candle to each one.
Finally, just for fun, see how to decorate with food for your Thanksgiving dinner party. The tips include: creating a rosemary & cranberry candle holder, wrapping cinnamon sticks around a vanilla candle, and using small gourds as tealight candle holders:
DIY Holiday Table Centerpieces | Tasty Tip
More Great Tips For Preparing Thanksgiving Dinner
How To Prepare For Your First Thanksgiving Dinner
5 Ways To A Perfect Thanksgiving Dinner
How To Plan Thanksgiving Dinner
Thanksgiving Dinner That Includes Turkey And Vegetarian Options
The Ultimate Thanksgiving Dinner Planner
Step-By-Step: How To Host Thanksgiving Dinner
I love writing about almost anything, especially my life experiences. Other favorite things to write are how-tos, household hints, nature and fishing articles, among others.