This post may contain affiliate links. If you buy thru these links, we may earn a commission at no additional cost to you.
---
Sweethearts conversation hearts are the world's most popular Valentine candies.
Not only can you eat them and share them as fun candies, but you can also create some really unique crafts, homemade cards, and dessert recipes with them!
How ever you choose to include Sweethearts conversation hearts in your Valentine's Day activities, you're guaranteed to make someone's day.
What other foods do you know that are this much fun?…
Fun Stuff About Sweethearts Candies
8 billion Sweethearts conversation hearts are made each year by Necco (New England Confectionary Co.)
Most conversation hearts candies are sold during the 6-week period between January 1 and Valentine's Day, making Sweethearts the #1 selling non-chocolate Valentine's Day candy.
Necco introduces 10 new Sweethearts conversation hearts sayings each year. For example, social media phrases were recently added to Sweethearts candies. And one year Necco introduced unique pet-loving sayings:
See the archived lists of new candy hearts sayings from 2003 to 2009 and from 2010.
In the early 90's, Necco Vice President Walter Marshall decided to update the sayings each year and retire some. His first ("Fax Me") created a lot of attention from Sweetheart fans. Each year he receives each year hundreds of suggestions from romantics, candy lovers and school kids for new sayings. From old tech "Call Me" to new tech "E-mail Me," Sweethearts keep the pulse on the heartbeat of the nation. Source
Sweethearts are fat-free, sodium-free candies that contain 3 calories per small heart and 6 calories per large heart.
For each heart-shaped candy, 5 letters fit on the top line and 4 letters fit on the bottom line. But if a W is used, then there are 4 letters on the top line and 3 letters on the bottom line.
Necco will even custom imprint Sweethearts conversation hearts for you, if you're willing to buy a full production run (approximately 3,500 lbs) of the 6-flavored candies (or 1.6 million individual hearts).
Each year, JEOPARDY! includes a Sweethearts conversation hearts trivia question on its show in celebration of Valentine's Day.
Changes to Sweethearts candy flavors have not always been welcomed by the public.
Check out this photo slideshow to see how Sweethearts candies are made!
More Fun Stuff About Sweethearts Candy Hearts
What (exactly) is inside a bag of Sweethearts conversation hearts?
 Did you know that you can order personalized M&M's and other candies for Valentine's Day?
If you really want to make an impression… send some personalized "live" red roses to your loved one!
 Or… make your own personalized candy hearts!
 Here's how to make candy conversation hearts yourself — a tutorial.
 More fun stuff about Necco Conversation Hearts (aka Sweethearts candies).
 Here's a fun Sweethearts candy card you can make and give as a Valentine card.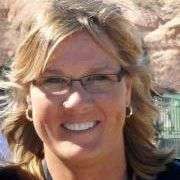 If there is ONE thing I like… it's C H A N G E! The four seasons and major holidays are my favorite times of the year to recharge — and redecorate. I mostly like to share frugal DIY ideas for seasonal home decorating and party planning (for both, indoors and outside). Because who doesn't enjoy entertaining at home?! But even if you don't host many parties, I think you'll appreciate my DIY hacks and clever ways to decorate your house for the major holidays including Halloween, Thanksgiving, Christmas. Because those are the times when people tend to have the most visitors and overnight houseguests.