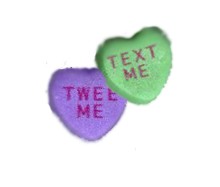 Candy hearts for Valentine's Day aren't anything new.
But… the following messages on candy hearts are completely new for 2010:
Yep, it's a sign of the times. Thanks to the popularity of social networking sites like Twitter and texting, Sweethearts candy hearts have gone hi-tech!
The Tweet Me and Text Me candy hearts pictured here were made using the ACME Heart Maker free online program. Have fun making your own personalized candy hearts!
More fun facts about Necco Sweethearts candy hearts which are traditionally shared on Valentine's Day.
Candy hearts not quite your style? Then you might prefer to make some personalized M&Ms for Valentine's Day — or any other holiday or special occasion for that matter!
Here are some cookies you can make with personalized messages on them!