This post may contain affiliate links. If you buy thru these links, we may earn a commission at no additional cost to you.
---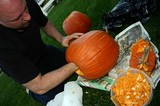 IMPORTANT… When you're done carving pumpkins for Halloween, don't throw out the pumpkin seeds!
If you're wondering what the heck pumpkin seeds are good for, check out these fun ideas for cooked, roasted, toasted, and baked pumpkin seeds…
Saving The Pumpkin Seeds
It seems such a waste to toss out the innards of carved pumpkins without getting something of value from the inside too.
So, if you do nothing else with your pumpkin innards this year, try this:
Save some pumpkin seeds to make a yummy snack!
Pumpkin seeds are high in protein and low in fat. Plus, they can be seasoned in many different ways. So, they're both satisfying and tasty!
Following are some great tips for cooking, roasting, toasting, and baking pumpkin seeds.
Step #1: Prepare Your Pumpkin Seeds

Do not wash them first… washing removes all the natural flavor!
Children love to help with this project… they will enjoy sloshing through the fibers in pursuit of the slippery seeds.
Step #2: Cook Your Pumpkin Seeds
Simply, choose your preferred method for cooking the pumpkin seeds (below), then shell and eat them while warm.
Experiment with your favorite seasoning salts while the pumpkin seeds are still warm.
Step #3: Store Your Pumpkin Seeds
If pumpkin seeds are not consumed within 1 to 2 days, they can be stored in an air-tight container in the refrigerator.
Or store the cooked seeds in zip closure bags and refrigerate.
When refrigerated, pumpkin seeds will remain fresh for 1 to 2 months.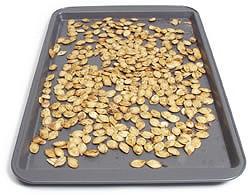 Quick & Easy Pumpkin Seed Recipes
The Simplest Way To Roast Pumpkin Seeds:
Separate the seeds from the strings.
Place a single layer of pumpkin seeds on a cookie sheet.
Add some salt.
Bake at 300 degrees until dry, stirring occasionally.
How To Toast Crunchy Pumpkin Seeds:
Separate the seeds from the strings.
Stir in a very small amount of cooking oil.
Place a single layer on a cookie sheet.
Bake at 350 degrees for 30 to 40 minutes.
How To Bake Buttery Pumpkin Seeds:
Separate the seeds from the strings.
Spread seeds evenly on a cookie sheet.
Bake in a 375 degree oven for 20-30 minutes.
Once seeds are dry, dot them with butter.
Salt lightly and bake 10 to 15 more minutes in a 250 degree oven until golden brown. (Stir frequently to avoid scorching.)
How To Microwave Pumpkin Seeds:
Separate the seeds from the strings.
Use a microwave-safe dish.
Mix 1 cup of pumpkin seeds and 1 Tbsp. vegetable oil.
Cook in microwave on High for 2 minutes.
Remove from microwave and stir.
Continue to cook in 1-minute increments — stirring in between — until desired crispness.
Add salt to taste.
Pumpkin Seed Granola Recipe
4 c. Oats
2 c. Wheat flakes
1/2 c. Oat bran
1/2 c. Wheat germ
1 c. Sesame seeds
1 c. Pumpkin seeds
1/2 c. Raw peanuts
1/2 c. Vegetable oil
1/2 t. Cinnamon
1/4 c. Honey or maple syrup
1/2 c. Raisins
1 c. Other dried fruit (apricots, apples, cranberries) or nuts
Combine grains, nuts, bran, and wheat germ in a big bowl. Slowly heat honey, cinnamon, and oil until honey is thin. Pour over grain mix. Scoop into 2 large baking pans and bake at 225 degrees for 2 hours, stirring every 20 minutes until toasty. Add fruit/nuts and cool.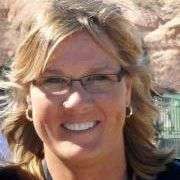 If there is ONE thing I like… it's C H A N G E! The four seasons and major holidays are my favorite times of the year to recharge — and redecorate. I mostly like to share frugal DIY ideas for seasonal home decorating and party planning (for both, indoors and outside). Because who doesn't enjoy entertaining at home?! But even if you don't host many parties, I think you'll appreciate my DIY hacks and clever ways to decorate your house for the major holidays including Halloween, Thanksgiving, Christmas. Because those are the times when people tend to have the most visitors and overnight houseguests.