This post may contain affiliate links. If you buy thru these links, we may earn a commission at no additional cost to you.
---
It's the most wonderful time of the year! Christmas is almost here and I love decorating for the holiday season.
The main floor of our home doesn't really have the floor space for an actual Christmas tree — so this year, our full-size Christmas tree will be put in our recently remodeled basement. But I still wanted a Christmas tree of some sort in our daily living area.
After seeing this PVC pipe tree idea from Martha Stewart (which doesn't take up any floor space), I just had to build one myself!
I had the perfect spot in mind for this flat-ish PVC Christmas tree… We have an eat-in kitchen with a window off to the side of a peninsula in the area of the dining room table.
I have a window film on this particular window — because we have our toyhauler parked on the other side of it. The window film has a stained glass effect, which allows the light in but perfectly hides the less than stellar "toyhauler view."
I had a vision to place the PVC Christmas tree within the window frame — because who doesn't love a window tree?
NOTE: There is a disclaimer about this PVC tree, which I would like to share with you — should you consider building one. The project was a big and messy job that required cutting and sanding the PVC pipe. It took more time and PVC pipe than I had initially anticipated. The tree would have also been quite costly if I had to buy all the PVC pipe new or acquire any new tools or supplies to get the job done. I was fortunate to have access to lots of random sized PVC pipes and tools — with the exception of one 10-foot x 3-inch PVC pipe from Home Depot that cost $20.
I ended up using about 25 total feet of various diameters of PVC pipe for this project.
Materials Needed To Make A PVC Christmas Tree
Here's a list of the supplies I used for my PVC pipe Christmas tree:
Scrap pieces of PVC pipe (I had various diameter sizes: 1.5-inch, 2-inch and 3-inch. If you don't have any scrap pieces, I recommend buying 10-foot lengths of 2-, 3-, 4-, and/or 5-inch PVC pipe. The 3-inch is just not big enough to hold larger ornaments, and the 1.5-inch is just too small for anything except mini-ornaments. But it really depends what you're trying to achieve. I had to buy one 10-foot length x 3-inch diameter pipe because I realized I didn't have nearly enough PVC pipe after I started cutting the scrap pieces that I had on hand.)
Scrap pieces of 4×4-inch vinyl blank fence post sleeves (We had some left over from our basement remodel. I added the square pieces to the mix to hold the bigger ornaments and add to the dimension of the overall look.)
Sanding belt and disc combination
2 cans of Primer spray paint
1 can of White spray paint
1 x 3 x 8 pieces of wood (the number of pieces will depend on the size of your tree)
Measuring tape
Acid brushes (to apply PVC cement)
Marker or pencil
Eye protection
Ear protection
Christmas ornaments
How To Build A PVC Christmas Tree
These are the steps I used to build a PVC pipe Christmas tree:
The Bottom Line…
Although this DIY project was a hot mess and a lot of work, I absolutely love how the PVC Christmas tree turned out!
I even decided to take it a step further by illuminating the glass from the outside with one of those Star Shower laser lights. At night, the green and red laser lights shine through from outside — illuminating the tree so pretty. The stained glass window film diffuses the lasers and really adds to the effect.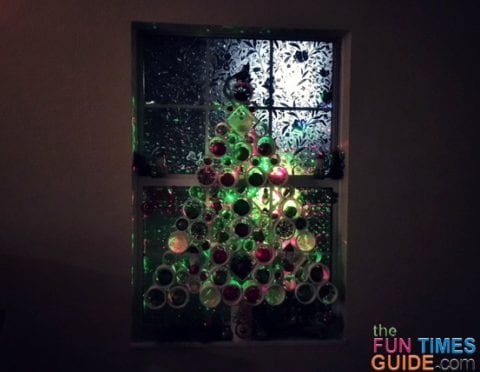 Besides not taking up any space, I adore this PVC Christmas tree for 2 special reasons:
I got to build it with help from and time spent with my father-in-law and my husband.
The tree is filled with ornaments that belonged to a sweet family who not only moved into our hearts but also to South Africa for 2 years on a missions trip. So now I get to think of them every time I look at the tree. Read more about their mission here.
This is the perfect Christmas tree for anyone with limited space.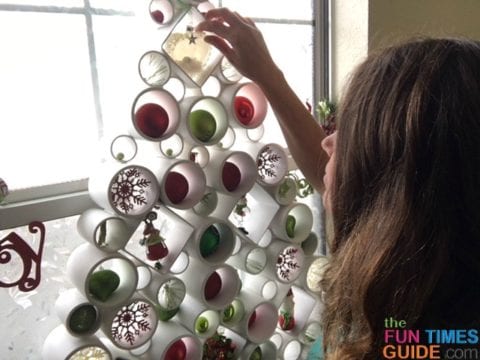 I hope you enjoyed this tutorial and I wish you a Merry Christmas!
Like this post? Save it to read again later… or share with others on Pinterest!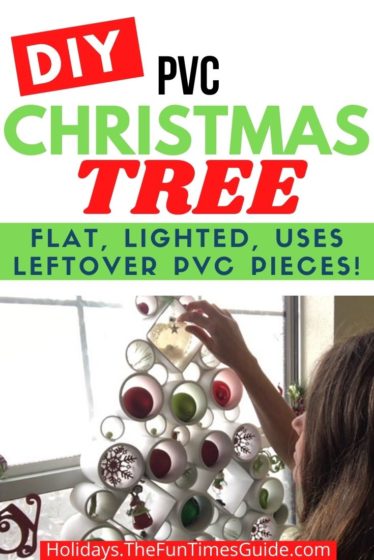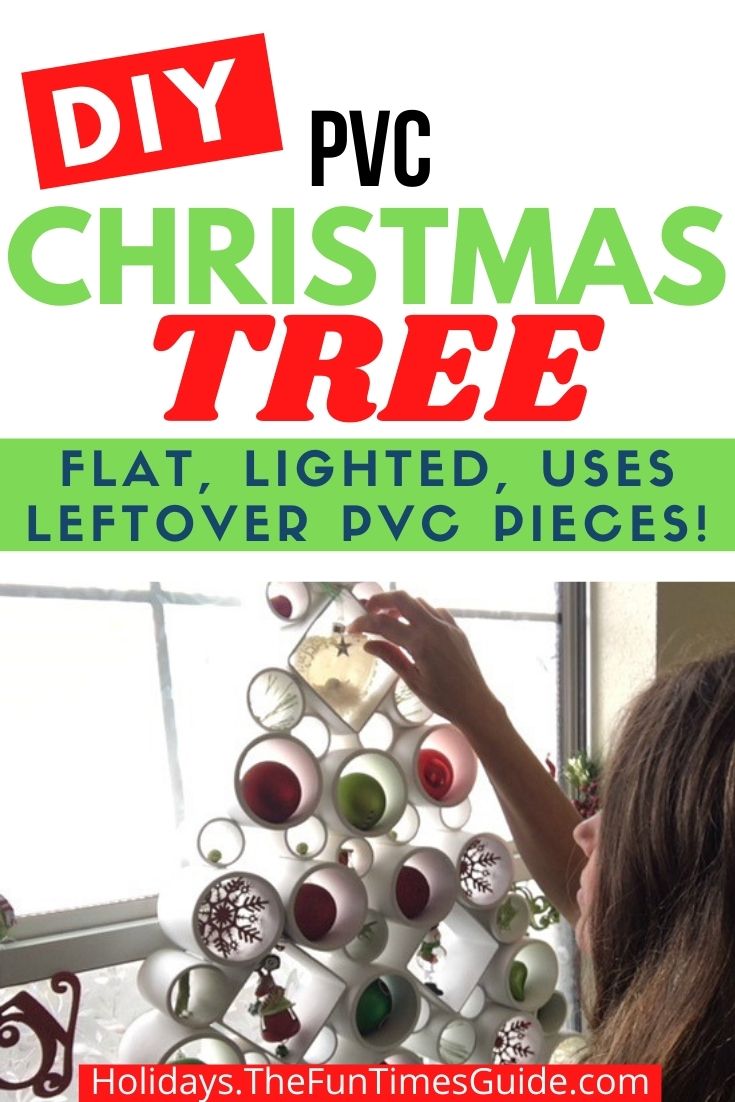 I'm a first-time mom. I work from home and write — mostly about my outdoor adventures, DIY projects, newly discovered products, and helpful tips as a first-time mom. I also like to share details about the alternative choices I'm exploring, as I enjoy this journey called motherhood. My family includes a toddler, 2 stepchildren, 1 dog, 1 cat, and a wonderful husband. My pre-pregnancy life was full of freedom and adventure, so I have a fresh new perspective when it comes to walking away from a career to become a full time stay at home Mama.