This post may contain affiliate links. If you buy thru these links, we may earn a commission at no additional cost to you.
---
A handwritten letter means so much.
It means more than a typed or emailed letter. It even means more than a short, quickly penned note.
Chances are, if you give someone a handwritten letter as a gift, it will be cherished more than a store-bought gift would be. In addition, a letter will be read more than once and cherished for years to come.
Yep, your handwriting and heartfelt feelings shared with someone you care about is the most personal gift you can give someone. (This is more true today than ever before, since handwritten letters are becoming a thing of the past.)
So instead of giving a gift card or some other gift that you might purchase, why not take a few minutes to write your very own letter as a gift to someone special instead?
>Not one modern communications marvel can replace a letter. It is more than a communication. It is a gift. A letter can have special powers. It can be more intimate and touching than even a conversation. It can be more personal than any telephone call.  Source
Special People Who Appreciate Handwritten Letters
Your mother, especially on Mother's Day
Your father, especially on Father's Day
Your spouse, especially on Valentine's Day
Your child, especially on their Birthday
Yours or your child's teacher
Anyone else who holds a special place in your heart
While Mother's Day and Father's Day might be the 2 most popular times to share your feelings via a handwritten letter to your parents, the fact is letters make great gifts any time of the year!
That's right, any time you need a thoughtful gift for someone you care a lot about, a personalized letter — in your own handwriting — would be most appreciated. It would certainly make anyone's day special.
How To Write A Letter As A Gift
Jot down all the positive qualities that come to mind when you think of this person.
Try to include at least one specific example of a time when those qualities were especially noticeable to you.
Think about everything else you might want to say if you only had one opportunity to tell this person how you feel about them.
You can write your letter on a simple piece of lined paper, a thick piece of colorful cardstock, or within a blank notecard — whatever suits your mood and your own personality.
You might choose to have the mailman deliver it to your gift recipient via U.S. mail, or you may want to hand- deliver it yourself when you see them in person.
Some examples of handwritten letters as gifts:
And here's a fun new twist on letter writing!…
While not exactly a handwritten letter, "future letters" are deeply personal and meant to reflect your thoughts and feelings on one specific day. Future letters are then delivered via email to the recipient (or even to yourself) on a date that you choose. It's a great way to celebrate or relive a specific day. Imagine writing a letter to your child on the day they were born that they'll receive on their 18th birthday, or maybe a letter to your mother on your own birthday this year.
Beyond Handwritten Letters
If you like the idea of giving a handwritten letter as a gift and you're feeling a little more creative than that, here are a few more ideas to turn it up a notch:
Whatever type of personalized gift you decide to give, just remember: It doesn't have to be perfect!
In fact, it's the little imperfections that reveal the real you and all the work you put into this project.
So, even though you might feel more comfortable typing your letter, it's important to realize that the recipient of your gift would treasure it more if you actually hand wrote each word. It's much more personal that way — mistakes, scratched out words, and all!
A typed letter can never provide the entire picture. Each letter, a laser copy of each other letter, so perfect in form, can not convey the emotional warmth that comes from imperfect handwriting, where a difference in style could signal uplifting feeling, or deepest despair.  Source
Letter G -- Handwritten Notes are a Gift
More About Handwritten Letters As Gifts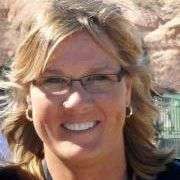 If there is ONE thing I like… it's C H A N G E! The four seasons and major holidays are my favorite times of the year to recharge — and redecorate. I mostly like to share frugal DIY ideas for seasonal home decorating and party planning (for both, indoors and outside). Because who doesn't enjoy entertaining at home?! But even if you don't host many parties, I think you'll appreciate my DIY hacks and clever ways to decorate your house for the major holidays including Halloween, Thanksgiving, Christmas. Because those are the times when people tend to have the most visitors and overnight houseguests.